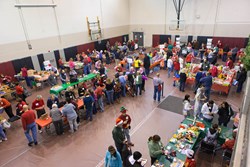 Addison, IL (PRWEB) December 23, 2013
Beltmann Relocation Group, the largest agent of North American Van Lines, has given a $10,000 cash donation to Outreach Community Center (OCC) in Carol Stream, IL. OCC is a multi-purpose, neighborhood resource center serving one of the poorest area in DuPage County with a variety of programs including after-school care, meal programs, mentoring, college prep programs, ESL classes, job training and many other services for people of all ages. The donation will be used to support their various programs throughout 2014.
"For the last few years Beltmann Relocation Group has redirected funds that would be spent on client gifts and we donate it directly to community organizations to benefit those in need. Each year we choose an organization, preferably one which our own employees are involved, such as the Outreach Community Center," explained Beltmann Relocation Group's President Marc Van Kley. "Knowing our gift will not only help needy families today, but for many months and years to come is a blessing to us and to our clients who support our efforts."
"This is a special donation because their commitment to us isn't only monetary, but of their employees' time and effort as well," said Rev. Donald Robinson. "We know that Beltmann not only believes in our mission, but will be standing beside us long after the holidays are over. That is when the greatest need comes and we're excited to have them as a trusted partner."
About Beltmann Relocation Group
Beltmann Relocation Group (http://www.beltmann.com) is one of the oldest and largest hauling and sales agents for North American Van Lines. Headquartered in Minneapolis, the company delivers relocation solutions to individuals, families and corporate clients across the United States. Owned and operated by the Battina family since 1955, Beltmann Relocation Group has expanded to 12 branch locations. With nearly 60 years of consistent profitability and strong leadership, Beltmann Relocation Group is an industry leader due to its unique combination of resources, commitment, integrity, self-hauling capacity, customer focus, technological advancements and commitment in all we do to "Be The Customer".