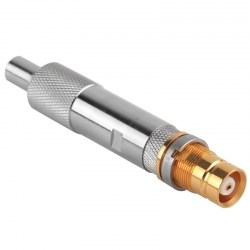 (PRWEB) December 22, 2013
Recently, RFcnn.com, the well-known balun manufacturer and wholesaler in the global market, has announced its new designs of mini baluns: G703 Mini baluns, E1 mini baluns, E2 mini baluns, 1.6/5.6 mini baluns, type 43 mini baluns and so on. Moreover, the company has also launched a mini balun promotion to attract more consumers.
The company is a leading brand when it comes to balun products. Over the past few years, it has insisted on deploying extremely strict regulations and quality checks. What's more, it often introduces high end machinery and equipment from home and abroad. A lot of its products are available in various dimensions to meet the different needs of customers throughout the world.
The CEO of the company states, "We are happy to manufacture the new items for the international clients. You know, it is our responsibility to serve worldwide customers better. The mini baluns offered by our company are useful devices that can be widely applied in many fields."
"In addition, we offer the great savings on these new devices to benefit more consumers. Please note that the promotion will not last forever. Those who are interested in our mini baluns should visit our online shop as soon as possible," he adds.
About RFcnn.com
RFcnn.com is an online shop of high end devices. It is a China based company that aims to provide customers with high quality products at the lowest possible prices. Customers can try the company's products through sample orders with a long-term contract. Most customers come back soon after receiving their first deals.
More details about the company's useful products can be found at http://www.rfcnn.com/Mini-Balun-IDC-Connector.html.