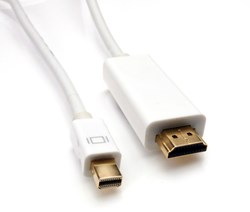 (PRWEB) December 22, 2013
Hiconn Electronics, a leader in high end electronic products, has recently begun its Christmas Sale for Mini DisplayPort 1.2 to HDMI 1.4 cables. The company is now providing great savings, 10-30% discounts, on all its Mini DisplayPort 1.2 to HDMI 1.4 cables.
The experts of the company often communicate with worldwide customers via the internet. Hence, the company's cables are all customer-oriented and featured with the latest designs in the current market. The brand new discounted cables no exception.
Here is some detailed information about the company's cables:

Material: Copper
Interface Type: HDMI
Application: Computer
Export Markets: Global
Trademark: topperstar
Packing: Polybag, Color Box, Blister Card, OEM Package, etc.
Origin: Cn
Production Capacity: 10000PCS/Month
Supports mini display port input and HDMI® Output
Supports HDMI® Highest video resolution (1, 080 pixels)
Compatible with Apple's MacBook and MacBook PRO air with mini display port connection
Color: White
Connector: Mini display port male to HDMI® Female
Jim, a boy from London, reviews, "I ordered my Mini DisplayPort 1.2 to HDMI 1.4 cable at Hiconn Electronics last week, and I received it ahead of time. I am quite pleased with what I get. It performs very well. Thank you so much. I wouldn't hesitate buying another one from your shop if needed."
About Hiconn Electronics
Hiconn Electronics (Shenzhen Hiconn Electronics Co. Ltd.) is devoted to designing and manufacturing a wide range of connection cables and customized cable assemblies, offering many HDMI cables, VGA cables, SATA cables, USB cables, 1394 cables, DVI cables, SCSI (Small Computer System Interface) and more. For more information, please visit http://www.hiconn.net/.
Contact Person: James Yin (Sales Director)
Company Name: Shenzhen Hiconn Electronics Co., Ltd.
Address: Shenghua Building., Xixiang Road., Baoan District, Shenzhen, Guangdong Province, China
Zip Code: 518102
Tel: +86-755-8109 8345
Fax:+86-755-2779 3497