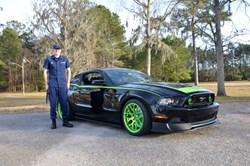 The look on Andrew's face and his overall excitement shown through his shaking body when I handed him the keys made all the effort worth it. - Vaughn Gittin Jr. Champion Drifter
(PRWEB) December 20, 2013
Monster Energy along with one of drifting's most iconic figures Vaughn Gittin Jr. presented a custom Vaughn Gittin Jr. 1 of 1 2014 Ford Mustang RTR Spec 2 car to the lucky winner Andrew Keller, fireman for the United States Coast Guard based in Charleston, South Carolina who entered the contest at the Commissary on Naval Weapons Station Joint Base, Charleston, ironically after he had been in an auto accident where another driver totaled his previous car.
Originally from New Castle, PA, Keller currently works in the engineering department on a high endurance cutter for drug interdiction patrols.
"I entered the contest the week after I got in a bad car accident," said Keller. "When I got the email and saw that I had actually won I was blown away and extremely happy. I would like to thank Monster for the opportunity."
Monster Energy, Ford and champion drifter Vaughn Gittin Jr., creator of Mustang RTR teamed up to present an exclusive sweepstakes commissary giveaway for active, reserve and retired military personnel as a thank you to present an opportunity for one lucky winner to win a 1 of 1 2014 Ford Mustang RTR Spec 2 and 20 additional winners to receive a Jr. HPI RC car. The HPI RC car is a replica of Vaughn Gittin Jr.'s car and one of the easiest-to-drive drift RC cars in the market.
"I am so pumped to be partnered up with Monster Energy and Ford whom selflessly give back and enabled me to be a part of this program, said Vaughn Gittin Jr. "The look on Andrew's face and his overall excitement shown through his shaking body when I handed him the keys made all the effort worth it."
"Monster wanted to present an exclusive opportunity to military personnel as a thank you for all the military does for our country, said Darlene Barrett, Monster Energy Vice President of Military Sales Worldwide. "We know these men and women put their lives on the line everyday to protect us and wanted to present this unique sweepstakes to show our support for what they do."
For more information on the Monster Energy Vaughn Gittin Jr.'s Ford Mustang RTR sweepstakes giveaway visit http://www.monsterenergy.com/Monsterdrift.
About Monster Beverage Corporation:
Based in Corona, California, Monster Beverage Corporation is the leading marketer and distributor of energy drinks and alternative beverages. Refusing to acknowledge the traditional, Monster Beverage Corporation supports the scene and sport. Whether motocross, off-road, NASCAR, BMX, surf, snowboard, ski, skateboard, or the rock and roll lifestyle, Monster is a brand that believes in authenticity and the core of what its sports, athletes and musicians represent. More than a drink, it's the way of life lived by athletes, sports, bands, believers and fans. See more about Monster Beverage Corporation including all of its drinks at http://www.monsterenergy.com.