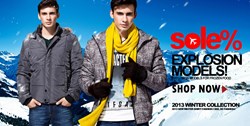 (PRWEB) December 23, 2013
Skmen.com is a leading brand of men's and women's fashionable clothes; it is extremely famous for its affordable and trendy women's winter coats. Recently, the experienced company has released its new collection of women's winter coats for customers across the world. In addition, it has also launched a special offer on these coats. Before December 31, 2013, all consumers who place an order can enjoy discounted prices.
Along with the new women's winter coats, the company has recently announced many products that come in various patterns and styles. Its top designers are making every effort to create the best clothes for new and old customers. They are very concerned about what customers actually need. Besides, these professional designers often communicate with customers to get more inspiration.
"I am very happy because of the new product announcement. This assortment includes many hot styles. At the moment, all these winter coats are offered at discounted rates, up to 32% off. Ladies who are planning to buy wonderful coats online can seize the good chance," the CEO of the company says.
The slogan of this special offer is "keep stylish women away from the coldness in winter". The most recommended items in this range are GZ Wholesale Hooded Thicken Cape Khaki Wool Coat for Women and YW Wholesale Fashion One Button Black Wool Coat for Women.
About Skmen.com
Skmen.com, a China-based company founded in 2009, is one of the leading suppliers of men and women's high quality clothes. It has more than 5000 customers from every part of the world. Skmen aims to help people develop self-esteem, confidence and a love for learning. More details at http://www.skmen.com/product-women-s-coats-003012001.aspx.