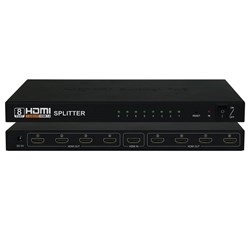 (PRWEB) December 23, 2013
Hiconn Electronics is a renowned brand of high end electronic devices. Recently, the company has unveiled its new collection of HDMI 1.4 Splitters. What's more, the company is now offering great discounts on these fresh items.
According to the CEO of the company, the new collection comes in various patterns, including 1X8 1.4V HDMI Splitters with 3D, 1X16 1.4V HDMI Splitters and so on.
The detailed information about the company's is 1X8 1.4V HDMI Splitters with 3D as follows:

One HDMI 1.3b input signal split to eight HDMI 1.3b sink devices
HDCP 1.2 protocol compliant
Support 3D
Support CEC
Support deep color 30bit, 36bit
Support Blue-Ray 24/50/60fs/HD-DVD/xvYCC
Digital audio format DTS-HD/Dolby-trueHD/LPCM7.1/DTS/Dolby-AC3/DSD
Support signal retiming
Support input up to 15metres AWG26 HDMI 1.3 standard cable length,
output up to 25metres AWG26 cable length

No loss of quality
Installs in minutes
Need DC5V/3A power supply
"All customers can get a discount before January 10, 2014. Many customers from around the world are very satisfied with our top quality products. Not only do we have some of the best devices on the current market, we also have a team of industry experts. Their vast knowledge and rich experience enable them to create what clients actually need," the CEO says.
About Hiconn Electronics
Hiconn Electronics (Shenzhen Hiconn Electronics Co. Ltd.) is devoted to designing and manufacturing a wide range of connection cables and customized cable assemblies, offering many HDMI cables, VGA cables, SATA cables, USB cables, 1394 cables, DVI cables, SCSI (Small Computer System Interface) and more. For more information, please visit http://www.hiconn.net/.
Contact Person: James Yin (Sales Director)
Company Name: Shenzhen Hiconn Electronics Co., Ltd.
Address: Shenghua Building., Xixiang Road., Baoan District, Shenzhen, Guangdong Province, China
Zip Code: 518102
Tel: +86-755-8109 8345
Fax:+86-755-2779 3497