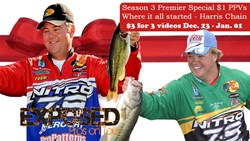 Plain and simple, it is the best collection of 'how to' ever produced.
Yankton, South Dakota (PRWEB) December 23, 2013
During the last week of December, ProPatterns will offer the first three episodes of the educational series Exposed for a nominal pay-per-view price. These episodes follow pro anglers Tim Horton and Brian Snowden as they study the waters of Florida's Harris Chain of Lakes on the practice days leading to the Elite Series Sunshine Showdown. ProPatterns has made each of the episodes available to free Social members of the website for one dollar. Fans new to the website can subscribe to a free Social membership by submitting a name and email address.
Timmy Horton, whose Whippoorwill Productions company has filmed the Exposed series for the past three years, took time from his busy schedule to discuss the impact the series has had on the pro angling community. He tells ProPatterns, "It would surprise the fans to know how many pay-per-view orders we get from Elite series guys. Think about that in a big-picture setting. If the best in the world want to see how their competition figures it out, just think how this will help the beginner or weekend tournament angler." Over the course of its three year run, ProPatterns Exposed has expanded its roster based upon its popularity within the professional angling community.
The ProPatterns end-of-year promotion serves to introduce new fans to the professional angling series in anticipation of the release of Exposed Season 3. New episodes of the series are set to premier on January 7, 2014. The first three episodes of Season 3 will follow pro anglers Dennis Tietje, Charlie Hartley, and Bassmaster Classic World Champion Takahiro Omori during the practice days leading up to last year's Sabine River Challenge. These episodes are available exclusively at ProPatterns.com.
During the past three years, the Exposed series has followed several dozens of pro anglers, all with differing styles and techniques. Horton, also star of Timmy Horton Outdoors, which is set to air next year on NBC Sports, tells ProPatterns, "All of [Exposed]…is so good, I wish this was available when I first started competing."
After three seasons of filming, Horton still describes Exposed as "…amazing coverage. Plain and simple, it is the best collection of 'how to' ever produced."
In March of 2014 Horton, a four-time pro champion, will appear on Exposed for a fourth time. For the third season of Exposed, Horton was filmed during practice days at the St. Lawrence Showdown last August. Brandon Palaniuk, who also appears in Season 3 of Exposed, took top honors at that event.
Horton describes his Season 3 episode of Exposed, hinting to fans that they can expect, "a really cool smallmouth show. I actually found a great spot in fighting windy conditions that allowed me to have a great event."
ProPatterns will premier three new episodes of Exposed Season 3 during the first and third week of each month through the month of April 2014. Whippoorwill Productions is set to begin filming Season 4 of Exposed early this spring.
About ProPatterns, Inc. and Exposed:
ProPatterns, Inc. is a leader of angling education offering a variety of fishing tips and membership services online including competitions to win exclusive prizes.
Information is gathered from various sources and disseminated with members in a variety of ways. The Exposed video series, for example, gains all of its integrity from an alignment with the biggest names in the bass fishing industry including professionals who fish with BASS, FLW, and PAA. Cooperation from the anglers and their willingness to share is the catalyst for the growth of this series.
Season 1 of Exposed features 22 professional videos in a 9 disc collection DVD set, it can be ordered at the ProPatterns online store. The set includes over 20 hours of video, and is also available in a pay per view format at http://www.propatterns.com.
Season 2 of Exposed, which became available on DVD last month, features 24 pros and over 16 hours of footage on an eight disc collection. Pay per view options for Season 2 are available online at http://www.propatterns.com as well.
The company is based in Yankton, South Dakota, home of CEO and President Chad Ekroth. Ekroth's background includes a computer science degree and business experience involving several successful startups. When not tending to business, Ekroth spends his time tournament fishing and engaging in other outdoor related activities which help educate and protect the future of angling and hunting.
Visit http://www.ProPatterns.com today to receive all of the latest information about the Exposed videos series and to learn more about all of the member services available.