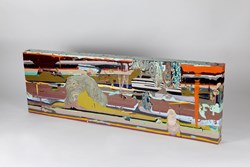 "Making imperfect and cross-sectional records of intensities and resonances, flows and floods, seismic shift and cataclysmic rupture, is a way for me to contemplate and compare human and geologic time."
New York, NY (PRWEB) January 07, 2014
OK Harris Works of Art presents 'Intimate Monuments', a new series of freestanding sculptural paintings by Laura Moriarty, who makes her debut in the New York art scene with this show. The exhibition opens January 25, 2014 and runs through March 1, 2014. The artist will be present January 25th from 3-5 p.m.
Comprised of layers of pigmented beeswax, Laura Moriarty's sculptures are created through processes that mimic geological forces, such as heating and cooling, erosion, subduction, compression and friction. Configured as monumental, architectonic blocks, the pieces focus attention on vividly colored and abstractly patterned surfaces and function as core samples of the process, with exposed layers embedded with shell-like deposits, much like fossils in sediment.
Moriarty creates the sculptures by pouring layers of carefully mixed pigmented beeswax into paper or Plexiglass molds, into which she has positioned wax shards and other objects of her own making. Timing, which determines the temperature of the wax and its degree of hardening, is the defining factor of how the wax behaves, although chance also plays a role. Speaking about her work, the artist says, "Making imperfect and cross-sectional records of intensities and resonances, flows and floods, seismic shift and cataclysmic rupture, is a way for me to contemplate and compare human and geologic time."
That said, each rectangular surface has the chromatic intensity and beauty of a painting, with layers and nebulae of neutral, earthy gray and brown encaustic interspersed with areas of ochre, sienna, sage green, slate blue, dull pink, cream, black and taupe pigmented beeswax and bright red, green, aquamarine, and yellow accents. The pictorial interest of these sculptural cross sections refers back to Moriarty's training as a printmaker, while the simple sculptural forms represent her growing interest in the elemental landscape. "This work began as interpretations of geology textbook illustrations, but has evolved to be more about how I feel when I'm in places like Bryce Canyon," she said, noting that one piece, 'Causeway', is named after the basalt towers of Giant's Causeway, in Ireland. "I'm inspired by places where deep time is visible. There's a big awesome wholeness that renders human scale insignificant." Yet the relatively small scale of Moriarty's pieces also suggests a playfulness, a miniaturization that relates to educational models—and distills the vast time-space continuum of geology into something containable that fits into your hands. Indeed, the titles—Leaning Wall, Push Ups, Bottom Line, and Shelf Life, to name a few--represent a play on words that has cultural as well as geological associations. A sense of existential awe, however, continues to inform Moriarty's work. "As overwhelming as geologic time is, once you understand it, it's transcendent," Moriarty said. "We don't live and die, but are vital matter, which just keeps changing."
Born in 1960 and a lifelong resident of the Hudson Valley, Laura Moriarty has shown her work throughout the U.S. and Europe. She has received numerous honors, including two grants from the Pollock-Krasner Foundation, and, most recently, a Projects Grant from United States Artists. She has participated in numerous artist residencies throughout the United States and abroad, including The Frans Masereel Center in Belgium and The Ucross Foundation in Wyoming. She is the creator of a book of her work, Table of Contents.
Laura Moriarty's "Intimate Monuments" will be on display at OK Harris from January 25 through March 1, 2014. OK Harris, the renowned Soho gallery started by the late Ivan Karp in 1969, is located at 383 West Broadway in Manhattan. For more information contact curator, Suzanne Kreps: Tel 212-431-3600 (email: okharris(at)okharris(dot)com).