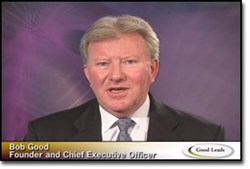 After extensive research, we selected Good Leads based on their straight forward approach to lead generation. We look forward to Good Leads to begin delivering quality leads for our recruiting offerings," said Samuel Saintonge, Vice President of Sales
Salem, NH (PRWEB) January 03, 2014
Good Leads® was selected by VidCruiter as their partner to expand their online video interviewing software and solutions offerings. As a premium provider of B2B lead generation and outsourced business development services, Good Leads will source new business opportunities for VidCruiter of Moncton, NB Canada throughout North America.
Bob Good, CEO of Good Leads, in making the announcement said, "We are pleased with being selected as a business partner to build VidCruiter sales pipeline throughout the U.S. and Canada. Our technology focused Prospect Builder® Program and methodology is well suited to grow their base of opportunities through our discovery and qualification processes."
"After extensive research, we selected Good Leads based on their straight forward approach to lead generation. We look forward to Good Leads to begin delivering quality leads for our video based recruiting software solutions offerings," said Samuel Saintonge, Vice President of Sales for VidCruiter. Good Leads dedicated lead generation team will focus their efforts in a multi-sector approach leveraging the success of their strong customer base.
About VidCruiter:
VidCruiter is an online video interview software company. VidCruiter provides a virtual interview software to help HR departments streamline their hiring by offering a combination of video tools to reduce time spent on hiring, increase the quality of candidates, give employers a branded hiring portal and organize all applicant activity in a web based applicant tracking system. VidCruiter offers a branded online video interview solution that consists of companies pre-recording interview questions that candidates respond to by either video response, text based response, or calling a 1-800 number when either applying for a job or at some stage in the hiring process. This facilitates meeting with only qualified finalists in person. VidCruiter also includes an applicant tracking and management system on the back end. The solution is completely web based. VidCruiter can be reached at 1-855-824-4720 http://www.vidcruiter.com.
About Good Leads:
Good Leads® is a premier provider of sales and marketing, B2B lead generation and outsourced business development activities for technology centric firms on a global basis with significant emphasis in the U.S. and Canada. Bob Good is CEO and Founder of the 11 year old firm. Good Leads specializes in executive level lead generation and appointment setting with international emphasis on supporting external corporate sales teams. Good Leads corporate headquarters is in Salem, NH with sales offices in Massachusetts, Maine and California. Good Leads can be contacted at 866 894-LEAD. http://www.GoodLeads.com