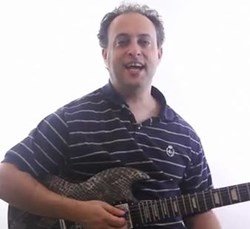 (PRWEB) December 21, 2013
In this guitar lesson, now available on YouTube.com, Claude Johnson teaches how to play "Last Kiss" as recorded by Pearl Jam.
Claude starts off by explaining the chords used in this song which are G, Em, C, & D. All of these basic chords and more can be learned by going to GuitarControl.com/beginner. Johnson explains that this song is very easy and has a cool "50's vibe". The strumming pattern for this song is as follows; down, down, up, down, up, played as note durations of ¼, 1/8, ¼, ¼, 1/8. This sequence is repeated on each of the four chords used in the song. "This is a very easy song to learn that uses the 4 of the 7 basic chords that I keep telling you to learn," says Johnson, those 7 chords are; Em, G, C, D, E, A, & Am. Claude says that if you learn those 7 chords you can play tons of songs and that if you check out his beginner guitar course he covers 75 different artists songs. Claude's beginner guitar course can be found at GuitarControl.com.
Pearl Jam was formed in Seattle Washington in 1990. They are one of the founding bands of the Grunge movement of the 1990's along with Nirvana and Soundgarden. In 1998 they recorded a cover of the ballad Last Kiss by J. Frank Wilson and the Cavaliers having all the proceeds go to the refugees of the Kosovo War. The single peaked at number 2 on the Billboard charts and was the bands highest charting single to date.
Claude Johnson
Claude Johnson, a native of Philadelphia PA, began playing guitar in 1990 after being inspired by players like Jimi Hendrix, Eric Clapton, and Stevie Ray Vaughn. He is the creator of GuitarControl.com and has helped 1000's of people learn to play the guitar with his critically acclaimed instructional DVD courses, all available at GuitarControl.com
About GuitarControl.com
GuitarControl.com is the leader in modern guitar instruction. It's packed with recourses including articles, video lessons, and the best videos in the business for the beginner to the advanced guitar student taught by the best instructors out there. Whether you are into the blues, rock, jazz, metal, folk, or anything in between, they have you covered.