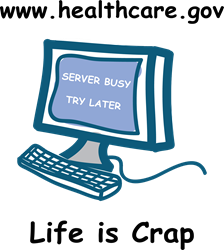 New healthcare.gov Life is Crap t-shirts have been meet with great success
(PRWEB) December 23, 2013
"Today, there were more problems with the website," the Tonight Show host noted. "It seems when you type in your age, it's confusing because it's not clear if they want the age you are right now or the age you'll be when you finally log in."
Late night comedians, anchor-people, journalists, stand up comics and everybody else, including politicians, is having fun taking pot shots at the healthcare.gov failed website launch.
"There is no doubt that people are frustrated with the disastrous roll out of the government website," says Life is Crap partner, Paul Wheeler. "With an issue so monumental the government should have anticipated every possible glitch and debugged everything before entertaining a launch. There really is no excuse for not being prepared! But in the end, like so many other things with which the public has to deal everyday at the hands of Big Government or Big Business, it tends to inconvenience the citizenry the most!"
The founders of Life is Crap decided to launch a new 'Healthcare.gov' Life is Crap t-shirts in October and the product has been met with overwhelming success. Whether you can log on and get insurance or not, people have no problem ordering the Life is Crap shirts on line and getting them delivered without a hiccup.
In fact, the Life is Crap sales team reports record holiday sales with the new expressions, as well as some of the other late fall releases that poke some fun at the Government – like the 'NSA' shirts!
"I can't get too upset with this stuff – or I'd tear out what little hair I have left," says Wheeler's partner, Ken LeFevre. "Our motto here at Life is Crap is simply, Crap Happens and Laughter is the Cure. It's the only way you can deal with some of the curve balls life throws at us."
For more information about the political spoof shirts, the wide range of Life is Crap products and other new releases, visit: http://www.lifeiscrap.com.
About Life is Crap®
Life is Crap® is a humor-based apparel company, with a focus on tees, hoodies, and gift items. Our brand focuses on crappy situations and pokes fun at the humor within those situations. At Life is Crap®, we believe that the universal cure to crappy situations is laughter. We believe that poking a little fun at ourselves, and the world, is the best way to get through those occasional lousy moments. Life is Crap® is the flagship brand of Offsides Branding & Licensing. For more information, visit lifeiscrap.com or offsidesbranding.com.