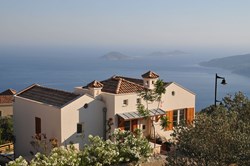 We predict 2014 will be an even busier year for UK citizens investing in property in Turkey.
(PRWEB UK) 24 December 2013
Oceanwide Properties' figures are in line with those issued by the country's Ministry of Environment and Urban Planning earlier this year which showed that twice as many non-Turkish residents had bought property in Turkey compared to the same period in 2012 (a total of 7,145 properties).
Britons were second only to Russians when it came to investing in land and property in Turkey. The third highest nation was Germany. And the popularity for Turkey doesn't just stop there. In November the Ministry of Tourism revealed that the number of visitors flying into Turkey had risen by 24 per cent between January and October compared to the same period the previous year.
Director of Oceanwide Properties Suleyman Akbay said there were many reasons why Turkey was proving attractive to foreign individuals and families looking to sell up and retire to a warm country, or to invest in a second home for holiday and rental purposes.
"The signing of the historic pact with the EU last week regarding immigration laws brings Turkey closer to becoming a member of the European Union which, in turn, gives foreign citizens investing in this country more confidence," he said. "Another reason is the Turkish government's marketing campaign to actively attract foreign investment to its shores (both residential and commercial).
"To back this up the government is making it easier for foreign nationals to move to Turkey. For instance, only recently they agreed to automatically give a year long residency permit to any foreign national purchasing a home in Turkey, compared to three months previously.
"Closer to home we ourselves have experienced a growth in the number of property enquiries from overseas and UK nationals in particular, to the extent we have increased our office staff here in our Fethiye office while, at the same time, maintaining the number of staff in our London office. That's because we are predicting that 2014 is going to be an even busier year than the one just past."
Meanwhile Britons who are spending the festive period in Turkey will no doubt be paying a pilgrimage to the village of Patara Kalkan near Fethiye on the country's south west Mediterranean coast. This is where Father Christmas (or Noel Baba in Turkish) is believed to have been born back in the third century.
Brought up a Christian, Nicholas was later made the Bishop of Myra near the city of Demre where he was known for his kindness to children (he regularly carried sweet around in large pockets in his gown). On his death he was made a saint, not just for children but also fishermen and sailors. The church in which he preached is still in the town of Demre - a three hour drive from Fethiye - and has become a favourite christmas day outing for many christians living in Turkey.
Oceanwide Properties is an estate agency based in both Turkey and London which concentrates on property sales in Turkey's Mediterranean and Aegean coast. More recently it has also been researching the city of Istanbul, which is already attracting huge economic growth. More information of the company and its services can be found at oceanwideproperties.co.uk.