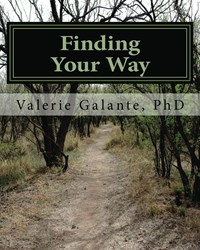 The mystery of human existence lies not in just staying alive, but in finding something to live for. ~ Dostoyevsky
New York, NY (PRWEB) December 23, 2013
Valerie Galante, Ph.D., a Clinical Psychologist and Interfaith Minister, has just released her first nonfiction book entitled, Finding Your Way: Lessons from Life.
Readers will benefit from the wit and wisdom of this seasoned professional who expertly integrates humor, cultural references, and every day events into inspirational, insightful, and informative life lessons.
Finding Your Way: Lessons from Life is a guidebook primarily written for, and dedicated to, people who have experienced periods of despair, desolation, and confusion in their struggle to understand the meaning and purpose of their lives; however, even those who are relatively contented will benefit from the insights offered. The intention of these 100 life lessons is to help people find their way in the world, discover who they are, how to remain true to themselves, and realize their life purpose.
As Socrates said, "An unexamined life is not worth living," and yet most of us get so caught up in the hustle and bustle of life that we do not take the time to examine, reflect, make adjustments, or even breathe!
Going through life without being mindful, aware, or having goals leads to a lamentable condition. According to Henry David Thoreau, most people lead lives of quiet desperation; but, it does not have to be that way. Change is possible. In fact, all one has to do is open to the possibilities. By changing your mind, your life will transform, too. The truth is that most people will not make a change until doing the same thing, or doing nothing, becomes so painful that they are forced into change.
In the words of Anais Nin, "…the day came when the risk to remain tight in a bud was more painful than the risk it took to blossom." Find out how to blossom in your life, read Finding Your Way: Lessons from Life, available world-wide from Amazon.com, Kindle, and your favorite book retailer in both soft-cover and electronic editions. For more information, go to http://www.drvaleriegalante.com.