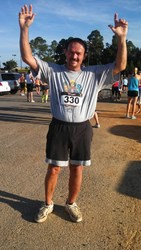 I suffered through months where I couldn't move, eat, or sleep, I was just a mess. If I had known about Perseus then, I wouldn't have needed to go through that. That's why I'm telling my story now, to try and help whoever I can.
Simpsonville, SC (PRWEB) December 23, 2013
It started as a mole on his leg, and spread quickly, despite aggressive chemotherapy and surgery. When 59-year-old Ray Merrill learned his melanoma was incurable and amputation of his leg was the only option available to buy just a little more time, he prayed for another solution. The alternative cancer treatment he found at Perseus PCI earlier this fall was literally the answer to his prayers, keeping his limb intact while bringing him immediate relief from pain, and in December, an extensive imaging test showed came back clear, showing no evidence of disease.
"My oncologist couldn't believe it!" marvels Merrill. "Just a few months ago, I was headed straight to Stage 4 melanoma, with nothing but pain in the future. I was devastated, thinking I had no chance to see my 14-year-old daughter grow up."
After receiving his 'incurable' diagnosis this fall, Merrill was determined not to spend whatever time he had left undergoing toxic chemotherapy regimens, or being bedridden after major surgery. Through his own extensive research and outreach, he learned of the Perseus PCI cancer vaccine.
"When I heard how it caused no side effects, I thought it was almost too easy to be real," remembers Merrill. "Many people agreed with that conclusion and tried to talk me out of it, but I felt that this option was absolutely what I needed to do – it made sense and I was determined to try it. Hearing Dr. Wagner speak lifted my spirits and gave me hope, knowing there was a chance to beat this."
Four months later, after completing the series of monthly inoculations, the soft-spoken Georgian native is certain his decision was the right, life-affirming one. From first to final treatment, all went smoothly, exactly as planned, and the most recent, completely clear PET (positron emission tomography) scan provided further evidence as to why Merrill feels better than he has in years.
With all the damage done by previous surgeries, including removal of lymph nodes, he had been in constant pain. The burning sensation on his legs made it difficult for him to function at his job as maintenance supervisor at a local eye center, or even sit for long periods of time. "Now I have my life back," he reports. "The swelling on my leg is down, and the burning and pain is gone. I put in a full day at work, jog, ride my bike. My entire outlook has changed—I can now look forward to spending time with my daughter."
And while many hospitals and treatment centers work toward providing the ideal patient experience, Perseus actually delivers, according to Merrill. "I was treated like royalty," says Merrill, "from the moment I stepped off the plane in the Cayman Islands. From the very beginning it was first class treatment, and everyone on staff was so knowledgeable and caring."
After a simple blood draw, Merrill went back to the hotel to await his personalized immunotherapy vaccine. On the third day, he received his first injection of the serum, made from his blood and a small section of tumor taken from his biopsy sample. Then he flew home, feeling "absolutely fine, with not one side effect, not even the slight fever they warned me might happen." Three subsequent visits at one-month intervals followed, and Merrill continued to recover as his skin healed and appetite and energy returned.
Already a veteran of chemotherapy used to treat the melanoma that had spread to his liver earlier this year, Merrill had endured its toxic effects firsthand. "I suffered through months where I couldn't move, eat, or sleep, I was just a mess. If I had known about Perseus then, I wouldn't have needed to go through that. That's why I'm telling my story now, to try and help whoever I can."
Says Dr. Thomas Wagner, the renowned biomedical scientist who created the Perseus cancer vaccine: "With patients like Ray, where the metastasis or spread of their tumor is still minimal, our vaccine can be very effective. It is my fervent hope that more patients will come to us at the earliest stage of their disease so we can see more and more dramatic recoveries like Ray's."
About the Perseus PCI Cancer Vaccine
The alternative cancer treatment was developed by Thomas Wagner, Ph.D., co-founder of Perseus PCI, a well-respected biomedical scientist and innovator responsible for pioneering some of the past half-century's most important biomedical technologies. The Perseus PCI vaccine arms the immune system to destroy the tumor with the patient's own T-cells, and creates a lifetime immunity to the disease. Approved by the Health Practice Commission of the Cayman Islands for research, the vaccine has gone through Phases I and II clinical trials in the U.S. for treatment of advanced stage melanoma, renal cell carcinoma and neuroblastoma. Additional trials of the immunotherapy treatment are being conducted in the U.S. and Europe through Orbis Health Solutions, LLC.
To learn more, visit http://www.perseuspci.com; or call 866-299-0750.