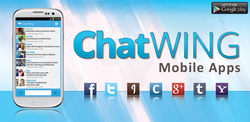 Dallas, TX (PRWEB) December 22, 2013
Chatwing.com created a new chat software app that can help people exchange ideas. This new app can be embedded to any website or blog, and also utilizes the potential of social media. Additionally, the widget can also be customized according to the user's preferences. There are also premium features that users can choose from.
Chatwing chat widget's social media functions begin with its array of login methods. Currently, visitors can log in with their Facebook, Twitter, Google, and Yahoo accounts. The company has also added the Tumblr login method. With this, Tumblr users can introduce their sites to large groups of people. This is useful for Tumblr users who are also online entrepreneurs.
Large brainstorm sessions require dozens of minds pitching new ideas. Since Chatwing app allows easy accessibility, website owners and moderators can gather people at a quick pace. There are also many ways to introduce the chat room software to people. First, the owner can share the chatroom in the form of shortlinks. The owner can also create any username. Second, Chatwing has introduced the social sharing function. With this function, the chatroom owner can share interesting conversations to social media sites. Now, the owner's friends and peers will get to see the conversations and they can also share their thoughts.
The Chatwing chat software continuously improves the widget as much as possible. This is done through maintenance checks and routine enhancements every now and then. The team believes that a professional and reliable chat box must be free of bugs and other technical issues. Users and interested clients can check out Chatwing's Facebook page for update information.
About Chatwing.com
Chatwing.com is a company that has brought innovation to the modern chat widget. Operating for more than five years now, Chatwing and its team of developers have dozens of ideas ready to be introduced to the public. The Chatwing chat app is an easy-to-use online tool that can help web users interact with each other and can also generate continuous traffic. Chatwing will always be a "freemium" application for everyone.