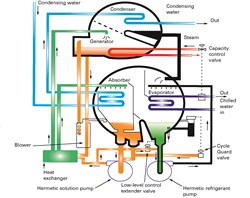 Combined Cooling heat and Power/Trigeneration technology can provide up to 30% in overall energy savings for data centres, with simple payback periods of 2-4 years.
(PRWEB UK) 23 December 2013
With increasing stress on the power network, resilience of electricity supply is an increasing concern for data centres. Combined heat and power (CHP) generation, as a reliable off-grid back-up, provides the assurance managers are seeking in preventing interruptions in critical power. It can also be used as a low cost and low carbon primary green energy supply.
CHP provides the simultaneous generation of electricity and useful heat and is typically 85% efficient for on-site energy consumption. It is around twice as efficient as conventional power generation, where the generated heat is wasted and further losses of approximately 7% occur in transporting the electricity from remote power stations to end users.
Ian Hopkins, Sales and Marketing Director for CHP specialist ENER-G Combined Power, said: "For data centres, Combined Cooling, Heat and Power (CCHP) or trigeneration takes CHP one-step further by incorporating an absorption chiller to create cooling from the waste heat. This can provide enhanced resilience by complementing existing diesel generation/ Uninterruptible Power Supply (UPS). As a tertiary form of supply, it can ride out transients or run for longer periods than diesel."
CCHP systems are not typically intended to take a facility off the grid. Modern systems utilise advanced switchgear technology to run operations in parallel with the grid, helping to supply low carbon, low cost electricity and free heating/cooling. However, where data centre growth encounters network capacity constraint, CCHP can be an extremely cost effective way of meeting the increased capacity requirement without the need for expensive network upgrades.
The on-site generation technology can provide up to 30% in overall energy savings for data centres, with simple payback periods of 2-4 years.
A number of suppliers provide fully financed solutions under power purchase agreements, involving no capital expenditure from the customer and savings guarantees in return for purchasing the electricity at a guaranteed discounted rate. One such example is ENER-G's Discount Energy Purchase scheme. With no capital outlay for equipment or installation, customers benefit from an immediate reduction in their energy costs and carbon footprint. The technology is then paid for via a metered energy charge that is guaranteed to be lower than previous electricity purchase costs. The cooling/heating is supplied free.
Unlike many other supply-side technologies, most CCHP projects are economically viable without government incentives. There are significant legislative benefits, which improve cost returns.
CCHP systems can be installed as part of new build data centres or retrospectively as containerised/modular solutions.
'Turnkey' modular systems enable facilities to scale power production with demand requirements. If a data centre with a 10 MW demand increases to a 12 MW demand, an additional 2 MW unit can be added to the existing system with relative ease. System modularity also means that the CHP packages are manufactured off-site in a quality and cost controlled environment, minimising the possibility of site-based cost overruns. Because the assets are complete modular packages they can be relocated should the need arise in the future.
Trigeneration is ideal for facilities utilising fluid-side economisers and/or centralised chillers, representing an opportunity to supplement existing efficiency measures with additional free cooling. Benefits for organisations utilising distributed air systems are more difficult to predict, yet in many instances still warrant evaluation. As with any discussion surrounding free cooling, results can vary wildly based on IT requirements, and existing infrastructure.
Hopkins concluded: "CCHP systems warrant serious consideration by data centre managers. In the right application, facilities save money by producing electricity more efficiently than grid supplied power, while providing a plentiful supply of free cooling/heating. Concurrently, CCHP installation improves environmental footprint by reducing carbon emissions. Perhaps most importantly, CCHP systems provide an additional layer of redundancy from a diverse fuel source, improving facility up-time and reliability. Modular CCHP systems can be a great fit for data centres, representing an excellent value proposition."
Further information: http://www.energ.co.uk/chp