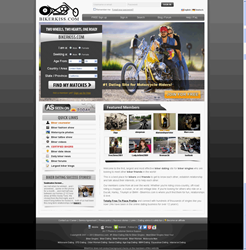 Los Angeles (PRWEB) December 23, 2013
The popular online dating site for people who enjoy the biker lifestyle BikerKiss.com, surveyed the female members. The women were asked about what their favorite features were about biker men. These lady riders were asked to think about what type of characteristics they look for when they are searching for a match. The survey gave them four different types of characteristics to choose from and to pick the one thing they feel is most important in their match.
The results of the survey showed that 34.51% of the women surveyed were most interested in a man who was full of courage to seek adventure. The survey showed that 29.7% of the women wanted a man who loved freedom. It was also revealed that 24.49% of the women surveyed wanted a man who looked masculine, while 11.1% of the ladies were looking for a man who would live for the moment and enjoy life to the fullest.
After all the results of the poll were tallied, it became obvious that most of the women at BikerKiss.com dating site were looking for a man who was adventurous. These adventure-seeking females are attracted by a man who wants to see it all and do it all, instead of just taking the same old, tired roads. These women bikers feel that this type of man has a strong and good soul. They feel this type of man is a man that they can rely on. When a man is confident enough to seek adventure, he is a man who has enough confidence to be relied on to be around during adversity and strife.
The results of the latest BikerKiss survey are in. Biker women like adventure and most of them want a man who is full of courage to seek adventure.