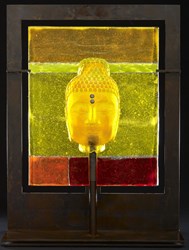 The glass immortalizes a glimpse of something fleeting beyond the moment, taking that moment andfreezing it over. - Marlene Rose
Greenwich, CT (PRWEB) December 24, 2013
Now on exhibit at Glenn Aber Contemporary is a distinctive collection of glass sculpture from three leaders in the field. American artists Marlene Rose and Brian Usher and Greek-American artist Phillip Tsiaras comprise the trio of sculptors whose work is unparalleled in the world of glass sculpture, which is now on exhibit at the Greenwich, Connecticut gallery starting Dec. 26.
With glass sculpture becoming increasingly valued in the world of fine art, the unique properties of the medium include its translucent nature, its reflective quality, and the process of transforming the medium itself from a liquid to glass form.
Emphasizing the medium's varying textures, Usher's sculptures contain smooth and transparent qualities contrasted with a matte surface. This juxtaposition highlights the vibrant colors of his sculptures that resemble three-dimensional fluid pen drawings. Usher's exploration of the space and depth of these pen drawings as they exist within glass exposes a deeper study of the spaces and relationships between people.
With a traditional approach to glass sculpture, Tsiaras's pieces are made contemporary through his whimsical content which often features an object encased in glass. Among Tsiarsas's standout pieces include a crimson glass gun encased in clear glass, which presents a contentious object in American culture in a lighthearted form.
Setting herself apart from traditional glass sculptors, Rose's approach to working with the medium — sandcasting — is extremely rare. This labor-intensive process starts with Rose's pouring molten glass into a cast enveloped by sand, which gives the final product a rough texture that refracts light in the most beautiful of ways. The pieces' thematic subjects of Buddhist and African rituals echo Rose's meditative and ritualistic process.
As an exhibitor in SOFA (Sculpture Objects Functional Art & Design) Chicago's Fall 2013 expo, Glenn Aber Contemporary has become one of the premier galleries in the United States with glass sculpture collections. With the opening of its new location in Greenwich, Connecticut last month, Glenn Aber Contemporary invites you to join them in examining their new glass sculpture exhibit and expanding public appreciation for this unique medium.