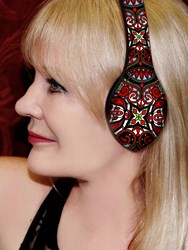 Morgan Hill, Calif. (PRWEB) December 23, 2013
What do they say? "Technology works best when it fits."
At 2014 International CES® Jan. 7-10, the focus will definitely be on fit – particularly at FashionWare, a new lifestyle exhibit produced in partnership with Living in Digital Times. Among the highlights at FashionWare: the opportunity to hear from the arbiters of fashion-meets-function in wearable, embedded and new technologies, including Velodyne President Marta Hall, during a Wednesday afternoon panel session. The session comes on the heels of a new report from the research firm Landor Associates, which predicts that wearable technology will be one of the leading brand trends in 2014.
Who: Marta Thoma Hall, President & Chief Creative Officer
Since joining Velodyne, Inc. as President in 2011, Marta Thoma Hall has added a creative dimension not typically associated with technology companies. Hall is an award-winning public artist whose multi-story steel and glass sculptures made from recycled materials (http://www.publicartgreenart.com/) are displayed in Arizona, California, Florida and Washington, and her solo fine art exhibitions have delighted audiences around the U.S.
At Velodyne, Hall oversees the design and development of new products, including a fast-growing line of sleek, lightweight Velodyne-branded over-ear, on-ear and in-ear headphones and accessories that enable users to customize their headphones with colorful, high-fashion skins designed by Hall and other recognized artists, including Lucas de Alcantara, Francesco Orazzini and Abel Del Rio. At the same time, Hall is transforming the way headphones look and sound with the vPulse, in-ear; vLeve on-ear; vFree on-ear Bluetooth and vBold over-ear Bluetooth; vTrue forged aluminum studio and new vQuiet over-ear noise canceling headphones, which appeal to everyone from casual music lovers to the most discerning audiophiles who recognize Velodyne as a leader in audio subwoofer technology.
A native of Lincoln, Neb., Thoma Hall graduated from the University of California, Berkeley, with a bachelor's degree in Fine Arts.
What: Hall and her fellow panelists will offer perspectives on how style meets silicon, addressing everything from new fabrics to new ways to get the perfect fit. Joining Hall on the panel will be:
o Jennifer Darmour, User Experience Design, Artefact
o Chris Herbert, CEO, Phone Halo
o Judy Tomlinson, Founder, AvocSoft and CEO, FashionTEQ
o Jillian White, Marketing and Product Management, MC10
"From jackets that adjust based on outside temperatures to solar-charging handbags and more, innovations in wearable technology are shaping the industry," said Karen Chupka, senior vice president, International CES. "The FashionWare TechZone integrates style, function and technology to create a wow-factor, high-tech space at the 2014 CES."
In addition to Velodyne, leading FashionWare exhibitors include Brother, CLO Virtual Fashion, Inc., and FashionTEQ. The TechZone, located in the Venetian Ballroom, will also host an invitation-only runway show on Thursday, January 9, featuring innovative products that are both functional and fashionable.
When: Wednesday, January 8, 2014, 4:25 p.m. – 5 p.m.
Where: Las Vegas Convention Center, North Hall N256
How: To request an interview with Marta Hall, please contact Jennifer Spoerri
(jennifer(dot)spoerri(at)gmail(dot)com), Shari Nakakura (shari(dot)nakakura(at)gmail(dot)com), for Edge Communications, Inc. (323-469-3397).
About Velodyne
Founded in 1983 and based in California's Silicon Valley, Velodyne, Inc. is a diversified technology company known worldwide for its high-performance audio equipment and high-definition LiDAR sensors for autonomous vehicle applications. The company is widely recognized as the leading manufacturer of high-performance, low distortion powered subwoofers and an expanding line of technically innovative in-ear and over-ear audio products with interchangeable custom-designed skins that enable audiophiles to personalize the look of their headphones. Velodyne products are available online at http://www.velodyne.com and from a select group of authorized dealers, custom installers and distributors worldwide.