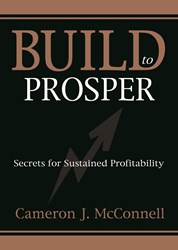 An essential handbook for business owners
DALLAS, TEXAS (PRWEB) December 31, 2013
New book "Build to Prosper: Secrets for Sustained Profitability" (Brown Books Publishing Group) by Cameron J. McConnell, CEO and Founder of the McConnell Group, LLC, reveals the key business secrets to attaining sustainable pretax profits to invest in future innovations.
Through innovative thinking, McConnell provides business executives with the essentials to get started, and the leverage necessary to return a business back to prosperity.
Based on thirty-five years of experience helping business owners break patterns that have derailed their businesses from "tracks of profitability," McConnell discloses eight economic theories that have trapped value in an owner's business and provides readers with a ten-step Business Modeling Methodology (BMM) for unlocking innovation.
In this guide, business owners will learn how to develop and implement an action plan that returns businesses to earning sustained pretax profits.
"'Build to Prosper' is for any owner who wants to add value to a company through innovation," says Clay Hightower, Business Development Director, Rotork Gears.
McConnell's Business Method Methodology dispels the previously touted economic theory of return on investment (ROI) as no longer relevant. He also discloses that break-even theory and associated incremental margin contribution by increased sales volume are the cause of marginalized businesses.
"Build to Prosper" uncovers the real values in a business––"intellectual properties"––that provide the leverage necessary to return a business back to prosperity.
"Everyone can benefit from these lessons combining a wealth of experience and applied innovation thinking," says Ruth Whitaker, Chief Executive, Mission Aviation Fellowship, UK. Robert Fukui adds, "'Build to Prosper' is a essential handbook for a business owner looking to prosper his business."
To learn more, visit: http://www.buildtoprosperbook.com
Books are available online and in bookstores
About the Author
Cameron J. McConnell is the Founder and Chief Innovation Officer of Build to Prosper, a division of the McConnell Group, LLC. MGLLC is a consulting firm that specializes in helping business owners earn sustained pretax profits that are reinvested in innovation. Cam has pioneered the Business Method Methodology (BMM), a ten-step business plan tool that for thirty-five years has proved consistently to help business owners build their business. From his first job with IBM through his work as a CPA for KPMG to serving as CEO for Purex Industries aeromotive subsidiary, Cam has honed his business savvy. Today Cam's vision remains to assist business owners to return to the "Prosperity Curve."
Cam and his wife Ginny live in Southern California. They have children, grandchildren, and great-grandchildren in the United States, England, and Nepal.
About Brown Books Publishing Group
Founded by Milli Brown in 1994, Brown Books Publishing Group is a full-service, independent publisher of high-quality books across all genres, from non-fiction to fiction. Committed to producing award-winning books for authors who choose to retain the rights to their intellectual property, Brown Books publishes more than one hundred titles a year and has won numerous, prestigious awards including the Writers Digest Grand Prize, Mom's Choice Award, Foreword Book of the Year, Gold Ink Award, Axiom Business Book Award and many more. Brown Books authors have appeared on programs such as Piers Morgan Live, Oprah, the Today Show, FOX News, Face the Nation, CNN, and BBC News. They have been featured in publications such as USA Today, Publishers Weekly, and the New York Times. In addition, they have been guests on NPR programming, including The Diane Rehm Show, Morning Edition, The Takeaway, and Tell Me More. To learn more, visit: http://www.brownbooks.com
# # #