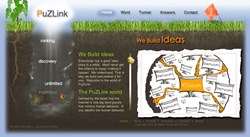 For PuZLink, solving the Internet business puzzle means a "word is worth a thousand pictures". That distinction can make the difference for companies planning to do business online.
(PRWEB) December 23, 2013
Search Engine Tunneling | PuZlink.com
PuZLink.com has taken the idea that "a picture is worth a thousand words" and turned it on its head. In so doing, the company is introducing innovation and a new approach to target marketing for the Internet world – Search Engine Tunneling.
For PuZLink, solving the Internet business puzzle means a "word is worth a thousand pictures". That distinction can make the difference for companies planning to do business online.
For companies with a product or service—or even just an idea—understanding the power of words can unlock the secret of online success.
From the earliest days of the World Wide Web, programmers and designers understood that the key to success on the Internet was that everything started with a word, or a group of words. It's the basis on which search algorithms were built, and from it an industry was born—one based on word placement and how it impacted and ran the Web.
PuZLink.com helps companies recognize that solving the Internet business puzzle involves creating original content that identifies and leverages the concepts with which they want to be identified. That's more than utilizing search engine optimization (SEO), which is important of itself.
"We've gone beyond SEO to SET—search engine tunneling," said David Capo, Founder of PuZLink.com. "It's a more comprehensive method of bringing consumers and businesses together, while still building on the foundation established by SEO."
PuZLink.com operates on the basis that the Internet is a giant word puzzle that essentially mimics human behavior. As such, an understanding and appreciation of that behavior enables businesses to assemble the pieces of the puzzle in order to reach their desired audiences.
While the idea behind target marketing is to convey a message as directly as possible to the consumer, SET goes a step further to zero in on the words that will lead to original targeted content, which in turn will identify and communicate with that consumer.
"Everything that happens on the Internet begins with a word or group of words," said Capo. "A consumer goes to a search engine and types in a word, then selects from a menu of listings, which are actually more words. Based on those, the consumer selects the website they want to visit – more words.
"That process demonstrates how a portion of the Internet really works," he said. "It's something that is easily overlooked, but we believe that words are everything on the Web, and our goal is to help businesses succeed by utilizing words properly from the perspective of good business, relevant content and search engine acceptance."
More than 30 years ago, the concept of positioning was introduced in the marketing industry, suggesting that a product or service needed to gain a position in the mind of the consumer in order to succeed in the marketplace. For the Internet marketer, search engine tunneling is a similar innovation, focusing instead on how to use words to stand out on the Web and break through the clutter to reach the online consumer.
Ultimately, the secret behind search engine tunneling isn't the specific product or service, as important as they are. The secret is knowing the words to use to enable your prospective customers to find you online. In that context, web development is all about vocabulary—understanding what to say when in order to connect with your desired audience.
"Above all, businesses are interested in one thing, and that's ranking highly in search engines so that they are easily and quickly found," said Capo. "We help them take their businesses to the next level by utilizing our tools and techniques to produce compelling content that enables them to accomplish their goals and succeed online."
About PuZLink:
PuZLink LLC works with companies to succeed online by building ideas that will in turn build a business. The company welcomes inquiries from individuals or businesses interested in harnessing the potential of the Internet to build an online enterprise utilizing PuZLink's proprietary approach to search engine tunneling (SET). More information is available online at http://www.PuZLink.com.
Media Relations:
Tom Delamater
Delamater Media Group
(330) 437-5975