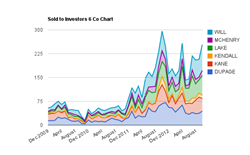 Chicago, IL (PRWEB) December 24, 2013
Last month, November 2013, was characterized by dropping temperatures and dropping foreclose numbers in Chicago. After a busy summer and a steady fall, winter brings with it a decided drop in activity for Illinois real estate, according to statistics compiled by the Illinois Foreclosure Listing Service.
The total number of new foreclosures on the market in Chicago and the surrounding counties dropped significantly in November. With 21.60 percent less new foreclosures than the month previous, this lack of newly foreclosed merchandise is one of the only bright spots in the discouraging November foreclosure forecast. Less properties falling into foreclosure means a healthier market overall for the area - especially when compared to November 2012. The year over year numbers for new foreclosures are even more positive, with 37.40 percent less newly foreclosed homes and businesses.
For Chicago, the drop in new foreclosures is good, but it was counteracted in November of this year by the accompanying lack of action at the auctions. November was the slowest month for new properties selling to investors that Chicago has seen since the beginning of the year, with 41.02 percent less sales than in October. Almost every county saw a drop in sales in November; the only exception being Kendall County, which saw a surprising 60 percent increase over October's numbers.
The number of properties that reverted to the lender (REO) also saw a loss this month, which is in line with the rest of the statistics seen so far. Typically, a drop in properties selling at auction would force an increase in REO properties for the month, but, because the number of new foreclosures on the market also suffered a significant hit, the 36.01 percent drop in REO properties is explained.
As the largest county, Cook County often serves as a leader in real estate trends because the impact of its numbers is more than the other, smaller counties. If that is the case, the next couple of months for Chicago foreclosures will be rather grim. Although the 22.57 percent drop in new foreclosures for November seemed encouraging, the more detrimental 40.68 percent drop in sales to investors erases much of that progress.
The year over year numbers for November 2013 are contradictory. Again, the number of new foreclosures has decreased by a significant 37.40 percent. However, for the first time this year, the number of properties sold to investors has decreased – even by the annual measuring stick. While November 2012 saw 397 properties sold to investors across the 7 Chicagoland counties (Cook, Dupage, Will, Lake, McHenry, Kane and Kendall), November 2013 had 27.20 percent less sales at auction.
Winter is often a tough time for real estate, but this November's depressed foreclosure numbers could herald a back-slide into more concerning numbers for December, January and February in Chicago.