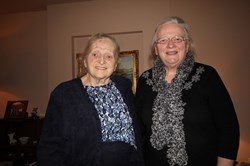 Hamilton, ON (PRWEB) December 23, 2013
On November 25, Maryalice Wood from British Columbia was selected as a winner in tripcentral.ca's Home for the Holidays contest. She wrote a poem in hopes of bringing her stepmother's sister home from Ireland. Pam, Maryalice's 81-year-old stepmom had not seen her 72-year-old sister in years.
"She has always been a great support to me. We talk nearly everyday….It's just part of Christmas. I didn't think about it being any other way," said Pam about her sister, Mary.
The reunion took place in Pam's home in B.C. tripcentral.ca was there to capture the moment.
The video of Pam and Mary's reunion on December 18 can be viewed on the tripcentral.ca website.
The goal of the contest was to fly a loved one living far away to Canada in time for the holidays. tripcentral.ca offered to provide up to two round-trip flights from anywhere in the world to make someone's holiday special.
The Home for the Holidays contest was open to Canadians from November 5 to November 18 and required entrants to submit a letter about their loved one and an accompanying photo. It received over 400 entries.
About tripcentral.ca
tripcentral.ca is an online leisure travel agency with store front locations throughout Canada. We employ more than 100 travel agents who've actually been to the destinations you're interested in visiting, selling all-inclusive vacation packages, last minute travel, cheap flights, cruises, escorted tours, hotels & more.
For more information, please contact:
Iris Sinilong
irissinilong(at)tripcentral(dot)ca
905-570-9999 ext. 7453
Amanda Stancati
amandastancati(at)tripcentral(dot)ca
905-570-9999 ext. 7452