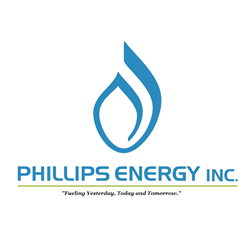 Gloucester, Va. (PRWEB) December 23, 2013
Phillips Energy, Inc. is pleased to announce it has completed its most recent renovation and opened its new location – online.
The recently launched web site – http://www.phillipsoilandgas.com - is part of Phillips Energy's efforts to update and enhance its technologies.
In addition to the enhancements already live on the site – which includes, among other features, an up-to-the-minute pricing page for its fuel station in Hayes, Va., propane safety tips, information about alternative fuels and a new Blog – Phillips Energy plans to layer in additional automated services through the web site, such as online bill pay and an ability to request services.
The web site is one piece of Phillips Energy's efforts to increase its communications with its clients and education on energy with the community. Also launched this fall are a mailed and e-newsletter – the Phillips Energy Informer.
"When you have feedback, we listen," John and Elizabeth Phillips, President and Vice President of Phillips Energy, wrote in a letter to clients earlier this month. "One thing we've heard you ask for is more information and we are pleased to answer the call."
Phillips Energy has been steadily enhanced its services each year since it was founded in 1946. Five years ago, Phillips Energy embarked in a strategic direction, and a large project, to help ensure it could meet energy needs to today and in the future. Stage one of that project was the renovation and expansion of the retail fueling station in Hayes, Va., which was completed in 2009.
Stage two included updating the Hayes and Mathews, Va. offices.
LINKS:
http://www.phillipsoilandgas.com
TWEET THIS:
Phillips Energy launches #newlocation online!
About Phillips Energy:
Founded in 1946, Phillips Energy, Inc. is one of upper Tidewater, Va.'s only providers of heating oil, on and off road diesel, gasoline, propane, dyed and cleared kerosene and lubricants. Phillips Energy serves businesses and families in, among other locations, Gloucester, Mathews, Yorktown, Williamsburg, Toano, Newport News, Hampton and Chesapeake.
Phillips Energy also features a propane gas distribution division, propane appliance installation and service, HVAC installation and service and a 24-hour retail fuel facility. Located at 2586 George Washington Memorial Highway in Hayes, Va., the retail facility offers fueling for private and public fleets with gasoline, diesel, propane auto gas, E85 flex fuel, and 20 percent biodiesel.
Phillips Energy also has a location at 18404 John Clayton Memorial Highway in Mathews, Va.
Learn more about Phillips Energy at http://www.PhillipsOilAndGas.com.