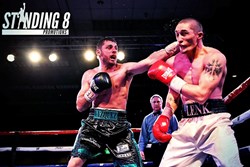 Fort Worth, TX (PRWEB) December 23, 2013
Hector "El Diamante" Vazquez of Irving, TX (12-1, 2KO) and Anthony Lenk of Las Vegas, Nevada (14-3, 7KO) fought hard in a blow for blow battle for the Texas Super Welterweight Title as the main event of the Standing 8 Promotions at the Amon Carter Exhibition Hall in Fort Worth, Texas. While Lenk may have landed the harder blows Vazquez relied on his skills and speed, which definitely gave him the last round and helped him get victory. In the end, Vazquez retained his title with a majority split decision from the judges.
Super featherweight Jon Baladez of Austin, TX (4-0, 2KO) defeated James DeHerrera of Fort Worth, TX (3-1, 3KO) in the 2nd round with a flood of powerful punches for a TKO victory. Baladez also knocked DeHerrera to the ground in the first round.
Super middleweight and crowd favorite Mike "Italian Stallion" Tufariello of Carrollton (3-0-1, 3KO) stopped David Hance (0-1) with just a few left handed bombs. The first one dropped Hance early in the 1st round. Hance barely got to his feet to beat the count before Tufariello went in for the kill, landing a second powerful left hook and taking Hance down for with a KO in the 1st round.
Middleweight Joey Dunmoodie of Fort Worth (6-2, 2KO) won a competitive unanimous decision bout against journeyman Larry Smith of Dallas (10-19-1, 7KO). Smith started off strong in the 1st round, but Dunmoodie was more consistent and landed hard combinations.
Super bantamweight and local fan favorite Tony Lopez of Fort Worth (8-0, 3KO) out boxed Quincy Wesby of Dallas, TX over to win a unanimous decision. Lopez landed combinations to the head and body of Wesby, who never seemed able to do much in terms of offense. All 3 judges scored it 40-36 for Lopez who remains undefeated.
Jr. Middleweights Johnathan Ramirez of Arlington, TX (2-0, 1KO) and Constantino Martinez of Sweetwater, TX (0-1) each hit the canvas once in this four round bout. Ramirez was dropped in the 1st round and then dropped Martinez with a left hook in the second. Ramirez then took the 3rd and 4th round and earned the unanimous decision.
In the opening bout, Thanasis Michaloudis of Kavala, Greece (7-0, 6KO) landed bigger blows on Tobias Rice of Macon, GA (4-10) earning a unanimous decision. Although, Michaloudis dropped Rice in the beginning of 4th round, Rice got back to his feet before the 10 count.
Bud Light Pro Fight 6 was part of the Bud Light Pro Boxing Series promoted by Standing 8 Promotions. Since its inception, the promotional company has gained prominence in the boxing world by staging consistent cards, competitive fights, exciting entertainment and featuring some of the very best young boxing talent. For more information about Standing 8 Promotions, go to http://www.standing8promotions.com or check them out on Facebook at https://www.facebook.com/Standing8Promotions.