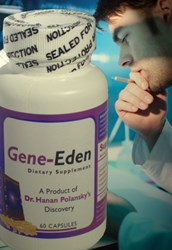 When you go into a hospital for treatment, you should be able to trust that someone like David Kwiatkowski will not steal pain medication intended for you and infect you with a deadly disease (1) - Vincent Lisi, FBI
Rochester, NY (PRWEB) December 23, 2013
polyDNA has learned that "David M. Kwiatkowski, a former healthcare worker at Exeter Hospital in New Hampshire, was sentenced to 39 years in federal prison for his actions that led to a widespread Hepatitis C outbreak in various states (1)." The article went on to note that "a recommendation that upwards of 12,000 patients should undergo testing (1). Testing to date has revealed that 45 patients carry a strain of Hepatitis C that has been genetically linked to (the) defendant's infection (1)."
polyDNA would like to mention that hepatitis C can "lead to serious liver problems, including cirrhosis (scarring of the liver) or liver cancer," according to the CDC in a page last updated on October 22, 2012 (2). Moreover, "Hepatitis C has surpassed HIV as a killer of U.S. adults," according to a news report in Reuters published on February 23, 2012 (3).
"While employed at hospitals, he (Kwiatkowski) stole syringes containing Fentanyl (a pain medication)… He replaced the stolen syringes of Fentanyl with syringes that he stole from previous procedures and refilled them with saline, after having injected himself with the Fentanyl intended for his patients. Kwiatkowski … had tested positive for Hepatitis C, a blood-borne virus that can cause serious damage to the liver, as well as other complications (1)." In short, Mr. Kwiatkowski put syringes he had already used, and were therefore contaminated with hepatitis C, back in the hospital supply for reuse.
Vincent Lisi of the FBI said "This was a heinous crime that touched so many of us in New Hampshire and in several states throughout the country. When you go into a hospital for treatment, you should be able to trust that someone like David Kwiatkowski will not steal pain medication intended for you and infect you with a deadly disease (1)." Mr. Lisi was the Special Agent in Charge of the FBI Field Division investigating the case.
"It's scary to think that you could get infected in a hospital setting, a place where you should feel safe, with a virus that actually kills more people per year than AIDS!" – Mike Evans, polyDNA
As in the case reported above, hepatitis C can be spread through tainted syringe needles. It can also be spread by "sharing needles, or other equipment to inject drugs, needlestick injuries in health care settings, being born to a mother who has hepatitis C, sharing personal care items that may have come in contact with another person's blood, such as razors or toothbrushes, and having sexual contact with a person infected with the Hepatitis C virus (2)."
polyDNA recommends that individuals with an HCV infection take Gene-Eden-VIR, a natural remedy designed to help the immune system target the latent virus. A study published on August 12, 2013 in the peer reviewed, medical journal Pharmacology & Pharmacy, in a special edition on Advances in Antiviral Drugs, showed that Gene-Eden-VIR reduced HCV symptoms (4).
Study authors wrote that, "Individuals infected with the hepatitis C virus…reported a safe decrease in their symptoms following treatment with Gene-Eden-VIR (4)." The study authors also wrote that, "We observed a statistically significant decrease in the severity, duration, and frequency of symptoms (4)."
To learn more about Gene-Eden-VIR, and HCV visit http://gene-eden-kill-virus.com/HCV.php. All orders of Gene-Eden-VIR are completely confidential, and no information is shared or sold to any third party. Privacy is assured.
References:
(1) Healthcare worker infected dozens of hospital patients with Hepatitis C. Published on December 21, 2013.
http://www.examiner.com/article/healthcare-worker-infected-dozens-of-hospital-patients-with-hepatitis-c
(2) Hepatitis C FAQs for the Public. Last updated on October 22, 2012.
http://www.cdc.gov/hepatitis/c/cFAQ.htm#statistics
(3) Hepatitis C killing more Americans than HIV: studies. Published on February 23, 2012.
http://www.reuters.com/article/2012/02/23/us-hepc-idUSTRE81M1HR20120223
(4) Gene-Eden-VIR Is Antiviral: Results of a Post Marketing Clinical Study. Published August 12, 2013.
http://gene-eden-kill-virus.com/PP_Gene-Eden-VIR-is-Antiviral.pdf
polyDNA is a biotechnology company that develops dietary supplements using the unique scientific method developed by Dr. Hanan Polansky, which is based on Computer Intuition.
In addition to his unique scientific method, Dr. Polansky published the highly acclaimed scientific discovery, called Microcompetition with Foreign DNA. The discovery explains how foreign DNA fragments, and specifically, DNA of latent viruses, cause most major diseases.
polyDNA developed Gene-Eden-VIR, an antiviral natural remedy that helps the immune system kill latent viruses.