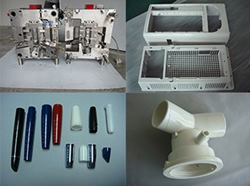 (PRWEB) December 23, 2013
Wuxi Glory Plastics, a renowned company that offers a wide range of injection molded plastic parts, has recently announced its special promotion for 2014. Any customer who signs a contract of injection molded plastic parts can enjoy a big discount, up to 21%. The company wants to make its products available to more clients worldwide.
The support from Wuxi Glory Plastics has not been restricted to injection molded plastic parts for the industrial buyers worldwide, as the company has announced that all its EIFS PB washes, EIFS mechanical fastener and blow molding parts are offered now at discounted prices. OEM deisgns are welcomed by the business as well.
The CEO of the company states, "Our plastic molds are popular in many industries including medical container industry, plastic toy industry, etc. We have been in the industry for many years, designing and manufacturing all kinds of molds, like injection molds, plastic molds and more."
"We are proud to support the industrial partners in our efforts to build all kinds of dreams and hopes. This partnership reinforces our global vision to improve the quality of life. The common questions customers asked reflect various aspects of design quality of our products to best determine the overall performance," the CEO noted.
About Wuxi Glory Plastics
Wuxi Glory Plastics specializes in developing and manufacturing of custom molded plastic product by taking advantages of the relatively low labor costs in China. It has most experienced workers in China. If you're looking for product design, engineering, prototyping, and mass production, Glory plastics can always find a solution for you. For more about our products and services, please visit: http://www.plastics-molding.com.