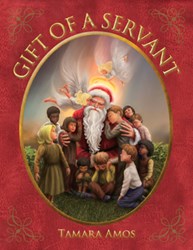 It's a work of love
Warrenton, VA (PRWEB) December 24, 2013
Nearly two hundred years after 'A Visit From St. Nicholas," more commonly known as "'Twas the Night Before Christmas" by Clement Clarke Moore was published in the Troy, NY Sentinel, a story that is being called a modern day version of the classic tale will air on YouTube this Christmas Eve.
Gift of a Servant tells of another encounter by a father with Santa Claus on Christmas Eve. This time, however, Dad surprises St. Nick by blaming him for the commercialization of Christmas and demanding his resignation. Told in verse, the poem goes on to explain, through a symbolic dream-like vision, the reason for Santa's annual visit: to continue the loving example that Jesus set in the world by giving "gifts of love from Heaven above" to God's children as signs of His love for them.
The video presentation of the book is told by Brian Page, the father of the author, who was the inspiration for the story. When Tamara was sixteen, she asked her dad what he wanted for his birthday. His response was that someday he would like for someone to write about how people can come to know God through the example of Santa Claus. Twenty years later, he received his gift when Tamara self-published her book, whose main character was modeled after photographs of him.
Gift of a Servant has won fourteen literary awards and honors. It has been positively received by reviewers and readers and has been featured on all the major online TV networks, on radio shows, in magazines and newspapers. "It's a work of love," says Tamara. "It took years to complete and I didn't cut any corners or spare any expense. My dad has done so much for his seven kids and I am so happy to be able to give him this gift."
The fifteen minute narrated presentation of Gift of a Servant airs on YouTube and on the Gift of a Servant website: giftofaservant.com