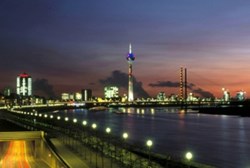 A reflection of Düsseldorf's new image as a 21st century must-see destination among international travelers.
Düsseldorf, Germany (PRWEB) December 23, 2013
The steep upward trend in visitor numbers continues in Düsseldorf. In September, more than 400,000 hotel nights (exact figure: 402,159) were booked, a record for a month's bookings in this city, and an increase of 8.8% over September 2012. Three big international festivals in September contributed to the record-breaking: the city's 725th Anniversary, cultural outdoor party "Chinafest," and three-week-long circus and music extravaganza "duesseldorf festival." Moreover, two major international trade shows, "Caravan Salon" and "Rehacare," brought in many business travelers. The combination of tourists and trade show visitors made for the strongest visitor numbers ever since overnight numbers were recorded in 1902 (a total of 311,993 hotel nights were recorded that year).
The increase in total hotel nights booked for 2013 is significant, as well. More than 3 million hotel nights were booked between January 1 and September 30, 2013, an increase of 2.7 % over 2012.
The number of travelers from the US shows particularly strong growth: Between January 1 and August 31, hotel nights booked by US visitors rose by 9.9% (total: 76,000), and arrivals by US visitors in the city by 21.4% (total: 45,000) compared to 2012.
"The success story of the destination Düsseldorf continues with much momentum. The year 2012 brought a new record, with 4 million hotel nights, and this year's new record of 400,000 hotel nights in September makes us optimistic that 2013 will break the 4 million mark once again," says Dr. Eva-Maria Illigen-Günther, CEO of the city's tourism office, Düsseldorf Marketing & Tourism (DMT).
The development of Düsseldorf as a hot new tourist destination is fairly recent and rapid: 1990 broke the 2 million mark and 2007 the 3 million mark - a reflection of Düsseldorf's new image as a 21st century must-see destination among international travelers. Düsseldorf combines the old-world charm of its historic Old Town and "Longest Bar in the World" with younger world-class attractions, like the ultra-modern Media Harbour, the city's vibrant fashion, shopping, and modern arts and music scene, and an all-year roster of huge international festivals ranging from Carnival to Christmas Market.
As travel from North America increases, the options for American travelers keep getting more attractive. Currently, there are direct flights to Düsseldorf Airport from eight US and Canadian airports (Atlanta, Chicago, Ft. Myers, Los Angeles, Miami, New York, Newark, Toronto). Highlights for North America travelers from DUS's winter schedule include the following non-stop flights: Air Berlin's daily service to New York (JFK) and Miami (MIA), as well as four flights per week to Fort Myers, FL; Lufthansa continues to fly daily to New York (EWR) and to Chicago (ORD) five times per week.
# # #
Düsseldorf Marketing & Tourism GmbH is the visitors and convention bureau of the city of Düsseldorf. Its responsibilities include tourism and city marketing, as well as conference and meeting marketing, hotel reservation services, fairs and convention services, city event ticket sales and advance ticket reservations. For more information, visit http://www.visitduesseldorf.de.
Düsseldorf Airport, Germany's Next Generation HubTM , offers several non-stop flights from US & Canadian cities (Atlanta, Chicago, Ft. Myers, Los Angeles, Miami, New York, Newark, Toronto), as well as convenient connections to many European cities. For more information about the airport, visit http://www.fly2dus.com.