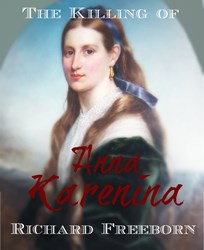 The truth is much more complex.
London, England (PRWEB UK) 6 January 2014
Prince Dmitry Rostov, Anglophile lover of English poetry, especially Shakespeare, has a bicycling accident. It occurs beside Wordsworth's "sylvan Wye". More sinister and worrying are a ghostly white figure, a strange black boat, a blood-red rose cast on the water, a train whistle and a gunshot, all of which make him witness to a "gap in nature" that will ultimately involve him in a unique quest for the truth.
Finding himself less seriously injured than he thought, he receives medical care and a night's rest at the home of the beautiful daughter of Lord Irmingham, a devotee of the late-Victorian cult of Tolstoyanism. Discovering that the prince had once met Anna Karenina, Lord Irmingham insists on having him as an honoured guest at his large country house, Stadleigh Court, among other guests assembled for a soiree devoted to celebrating Tolstoy's ideas.
But there is an important sub-text to the occasion, as the prince soon discovers. He is invited to confront the veiled, reclusive lady in the tower. Is she Anna Karenina? Is she now apparently alive and well and living at Stadleigh Court on the banks of the river Wye?
Entrusted with the task of identifying her, the prince finds himself drawn ever more deeply into a sympathetic understanding of her situation, her concern for her son, newly arrived from Russia but suddenly struck down, her joys and fears, above all her talk of threats and, finally, her claim to have "enemies". The soiree when it occurs proves to be fatally tragic. Her death overnight forces the prince to investigate. By dint of clever detective work and a certain amount of good luck he gradually uncovers the specifically Russian reasons for her killing.
An Epilogue to what is an ingenious and entertaining crime novel reveals how much more the prince has to tell his wife when she returns from visiting her mother in Russia. __title__ The Killing of Anna Karenina by Richard Freeborn]
About the author.(http://www.dynastypress.co.uk/richard-freeborn.html)
Rihard Freeborn's publications include, in the academic field, Studies of Turgenev (OUP, 1960, 1963; Greenwood, 1978), A Short History of Modern Russia (Hodder, London, 1963; Morrow, NY, 1965), The Rise of the Russian Novel (CUP, 1973; reissued 2010), The Russian Revolutionary Novel (CUP, 1982, 1985), Dostoevsky (Haus, London, 2003), Furious Vissarion: Belinskii's Struggle for Literature, Love and Ideas (SSEES, London, 2003). His translations from the Russian are Turgenev's Sketches from a Hunter's Album (Penguin Classics, London, 1967; complete ed., 1990), Home of the Gentry (Penguin Classics, London, 1970, many eds.), Rudin (Penguin Classics, London,1975), First Love and other stories (OUP World's Classics, 1989; originally published by the Folio Society, London, 1982), Fathers and Sons (OUP World's Classics, 1991, many eds., now a set book at the Open University), A Month in the Country (OUP World's Classics, 1991); Dostoevsky, An Accidental Family (OUP, World's Classics, 1994).
His novels are Two Ways of Life (Hodder, London, 1962), The Emigration of Sergey Ivanovich (Hodder, London,1963; Morrow, NY, 1965), Russian Roulette (Cassell, London, 1979), The Russian Crucifix (Macmillan, London, 1987; St Martin's, NY, 1987). He has contributed to such works as the Encyclopedia Britannica and edited a number of academic studies and still reviews frequently for various journals. Works published in the USA include practically all his academic studies and translations as well as two of his novels, The Emigration of Sergey Ivanovich and The Russian Crucifix. His translation of Turgenev's play A Month in the Country starred Helen Mirren and John Hurt et al. when it was produced in London and enjoyed great success. Dame Helen Mirren then took it to Broadway where it enjoyed further success. She and John Hurt left him a very touching, congratulatory memento relating to his translation and their roles in the play.
About Dynasty Press (http://www.dynastypress.co.uk)
Dynasty Press is a boutique Publishing House that specialises in works connected to royalty, dynasties and people of influence. Committed to the freedom of the press to allow authentic voices and important stories to be made available to the public, Dynasty Press boldly publishes titles which reveal and analyse the lives of figures placed in the upper echelons of international society. Recent titles include Death by Dior by Terry Cooper and A Tale of Two Russians by Chris Arthur.
For interviews and more information please visit dynastypress.co.uk or contact executive(at)dynastypress.co.uk