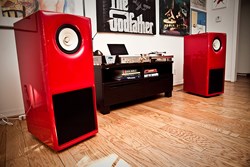 This is just the best you can get.
Woodland Hills, CA (PRWEB) December 24, 2013
"This is just the best you can get," says audiophile Per Sjofors.
Also bundled with the speakers are:

Dirac Live, the premier room correction software and the choice of Rolls Royce, Bentley and the BMW M series, among others.
An Apple Macbook Pro Laptop computer.
A premium DAC.
Now only $449,995.
The stunning Earo Eight:
The Earo Eight speakers are manufactured by Earo High Definition Audio in Sweden. They are intended as the primary loudspeaker for high definition music. With their stunning appearance, they makes a bold visual statement in any room. When played, they make an even more remarkable impression. The Eight is an instrument of revelation and will flatter good recordings while uncovering poor ones. The Eight produces a broad, detailed and dynamic sound field with very low distortion making it a listeners speaker due to the controlled dispersion; you sit down and become immersed in the musical performance.
The remarkable 2013 Ferrari 458 Italia Spider:
Finished in a Rosso Corsa Red (Ferrari Red) exterior and Beige Daytona Seating this 458 Italia Spider are one of a kind. It is a heavily optioned car in a stunning color combination. CARFAX certified. VIN ZFF68NHA4D0191782 (subject to availability.)
Delivery and installation of the speaker is free in Southern California.
For more information, contact:
Per Sjofors
818 512 9133
per(at)atenga(dot)com
or, check
http://app.audiogon.com/listings/full-range-earo-and-ferrari-bundle-earo-eight-and-a-ferrari-458-italia-spider-the-best-and-mo-2013-12-23-speakers-91367