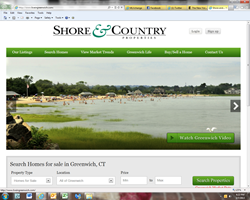 The 'Spring market' is the most misunderstood statement made in Greenwich real estate. - Russell Pruner, partner/broker
Riverside, CT (PRWEB) December 23, 2013
Shore & Country Properties, the number one independent real estate firm in Greenwich, CT, has released the most recent market summary, which tracks the first eleven months of 2013 versus 2012 for the Greenwich market. For a complete look at the numbers, please visit http://www.ShoreandCountryProperties.com.
The Greenwich real estate market has seen a healthy gain with a 16 percent increase in the number of units sold by the end of November with 664 single-family sales versus 573 in 2012. The dollar volume for single family homes was up 9 percent over 2012, recording $1,420,370,121 in single-family sales through November. While the average price for a single-family home dropped 6 percent to $2,139,112, the median rose 3 percent to $1,641,000.
The Greenwich condominium market saw a large improvement in both units sold, up 54 percent, and dollar volume, up 50 percent. Again, the average sales price dropped 3 percent to $819,726, while the median price rose 8 percent to $699,500. Through November, 176 condos have closed, and with 21 contracts pending and 79 units still active, Shore & Country Properties believes it's possible to hit 200 sales by year end.
So, as 2013 comes to a close, the staff at Shore & Country Properties is grateful for one of their best years. Their hardworking agents and wonderful clients provide the opportunity to showcase their exceptional skills as they navigate through an unpredictable, but exciting market. As Shore & Country Properties takes some time to reflect on 2013, their attention turns to the always highly anticipated spring market.
Several of Shore & Country Properties' agents chimed in on the debate about when the spring market actually begins.
"You can tell when a new listing comes out and it has many showings the first few days it is on the market," said Pat Cea, a sales associate at Shore & Country Properties. "This happened to me last January when I listed a house, and the first weekend on the market, I had 37 showings."
Nancy Healy, a partner/broker at Shore & Country Properties, believes Super Bowl Sunday marks the start of the spring market. She and many other realtors have used this event as a benchmark for when things get busy.
Russell Pruner, another partner/broker at Shore & Country Properties, adds that the spring market is the most misunderstood statement made in Greenwich real estate. He claims the spring market begins during the winter each year - usually between early February and the end of April.
"If you are going to be a player in the 2014 spring market in Greenwich, get it on the market early or else you will miss the best time to sell your home," Pruner said.
While inventory, or the lack of, seems to be the driving force in the Greenwich market, events that influence the market are often beyond control, like Wall Street, the job market, mortgage rates, world events and the most unpredictable of all things: weather.
Shore & Country's Frann Ward notes that the spring market is weather driven.
"If we have a lot of snow and bad weather, the market can be delayed," Ward said. "I can remember showing a house a few years ago in March with a snow shovel and ice melt in my car."
While Shore & Country Properties can't pinpoint the exact date of arrival, they believe the spring market will be a success. They anticipate most buyers coming from New York, both the city and the state, as they are looking for a bit of tax relief, as well as the diverse vibrant community, fabulous schools, gorgeous parks, beaches and close proximity to New York City that Greenwich offers.
Visit Shore & Country Properties' website at http://www.ShoreandCountryProperties.com or give them a call at (203) 698-1234 for help finding a new home in 2014.
About the company:
Shore and Country Properties was originally started by Russell Pruner in 1989 as Russell Pruner and Associates. His vision for a company comprised of the town's best full-time real estate professionals. Nancy Healy joined the company as a partner in 1996. Since starting her career in real estate in 1987, Nancy has been one of the town's busiest and well-respected realtors. Recently, her peers voted her one of America's Most Preferred Realtors. The year 2000 brought the addition of two more partners, Joan Epand and Ken Yorke. Each added yet more talent to the group, from Joan's marketing expertise to Ken's sharp accounting skills and operational abilities.
Both Russ and Nancy have served multiple time as President of the Greenwich Association of Realtors and the Multiple Listing Service and give their time to work on other committees. As a result they have a unique understanding of what it takes to run a successful real estate firm. And by carefully selecting only agents who represent the best of Greenwich, Russell Pruner and Associates quickly grew to become the leading independent real estate firm, serving all 50 square miles of Greenwich and lower Fairfield County.
"We handpick respected agents who demonstrate the integrity, expertise and personal touch that clients deserve when buying or selling their most valuable assets."
In 2003, Russell Pruner and Associates became Shore and Country Properties to let consumers know they service every neighborhood from the back country to the shore line. For the past 12 years, Shore and Country Properties has been the number-one real estate company in Greenwich by selling their listings in the fewest number of days (81) and with the highest original list price to sales price at 93.75 percent. They continue to lead the Greenwich market in transactions and dollar volume while providing unparalleled service to their clients. It is their hope that the new website will draw visitors from around the globe to learn about this very dynamic company and this very special town.