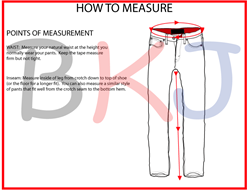 I got tired of seeing the disappointing look on my kids faces when they got a new pair of jeans that didn't fit, so I did something about it. It's all about making your kids happy.
Albany, NY (PRWEB) December 24, 2013
Steve Frazee knows how frustrating it is to buy pants for kids who aren't standard sizes. As the single dad of extra-tall and husky sons, it was rare that he could find the right fit for his boys off the rack. When Frazee turned to tailoring, he often spent upwards of $50 and weeks waiting for new pairs of pants. Despite his constant battle to find the right fit, his sons were still walking around in pants that needed to be cuffed or were too short. "As a Dad, the most frustrating thing about the entire shopping experience was the disappointed look on my kids' faces when I brought home yet another pair that didn't fit," says Frazee.
That's why the Albany-based dad and entrepreneur decided to build his own solution to his family's need for affordable pants that would fit off the rack. His all-new clothing line, Big Kidz Jeanz, is pleased to announce the release of their exclusive pants lines, which includes jeans that are almost guaranteed to fit your kid – no matter their waist size or height! Best of all, there's no wait – the pants arrive in the size you need within a few days of ordering. Frazee is additionally working to perfect a line of athletic pants.
Affordably priced at less than $40, Big Kidz Jeanz can accommodate waist sizes from 26 to 44 inches, and inseams from 14 to 35 inches. "As a former big kid myself, I was lucky to have a Mom who tailored my pants to fit right," says Frazee. That's why he took care to design clothes that don't look any different from a high-quality, designer pair purchased at the mall. To help other parents nationwide escape the frustration of returns and confusing sizing, the site also offers convenient video tutorials to help parents pick the perfect fit.
"As a parent, I know how precious my time with my kids is," states Frazee. "That's all the more reason I chose to design affordable, reliable and quality-guaranteed solutions for pants that work."
Big Kidz Jeanz was founded in Albany, N.Y., in 2013. The retailer specializes in providing durable, high-quality and affordable pants for kids of all sizes. Whether you're trying to fit a slender or husky kid, there's no need to spend time shopping around and having clothes tailored any longer. The brand's jeans arrive in the size you need within days of purchase.
If you would like more information about this topic or to schedule an interview with Steve Frazee, please call 518-452-1448 or email info(at)bigkidzjeanz(dot)com.