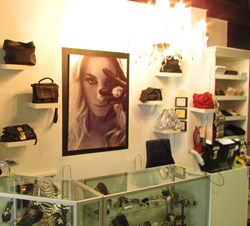 Coral Springs, FL (PRWEB) December 23, 2013
STASH, the Designer Consignment and Retail Boutique, recently showed off its clothing collection with a fashion show to benefit the Pediatric Associates Foundation.
The Pediatric Associates Foundation, established in 2006, is an independent, charitable organization that raises money for the purpose of providing grants to other charitable organizations and programs that benefit children and youth in South Florida. It has issued more than $150,000 in grants since its founding.
"We wanted to get involved and help contribute to programs in our community," said Dr. Luz Marina Pages, president of the Foundation, as well as a pediatrician who helped form it.
Jacki Rosen, STASH's owner, wanted to do something for the organization that provided such personalized care for her children 15 years ago.
"I am really excited to help this foundation," she said.
The fashion show, emceed by Rosen, featured a variety of fashions and price ranges for different body types, tastes and budgets. There were also some fun facts and history of the fashion industry sprinkled in for good measure.
STASH is located at 8200 Wiles Road in Coral Springs. Hours of operations are 11 a.m. to 6 p.m. Tuesday through Saturday, 11 a.m. to 4 p.m., and by appointment only Monday. For more information, please visit their website at http://www.stashboutiquefl.com, or call 954-507-0259.
About the Company
STASH is the newest designer consignment and retail boutique combined with a small art gallery owned by Jacki Rosen in Coral Springs, FL. STASH is a unique concept store planning to be event driven, fundraising focused as well as a place for up and coming artists to showcase their work. STASH specializes in unique, fashion forward, and classic apparel from BCBG, Burberry, Balenciaga and beyond.
With more than 25 years of creative field experience, Rosen is a former Curator and Art Museum Director turned interior designer and space planner. After successfully representing a jeans line, she added her own clothing and jewelry business and has now decided it is time to expand into her own boutique offering so much more.