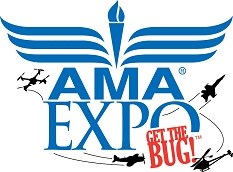 Ontario, CA (PRWEB) December 26, 2013
The premier exposition for model aviation, AMA EXPO 2014, hosted by the Academy of Model Aeronautics and presented by Go Professional Xtreme Custom Cases, will be held January 10-12 at the Ontario Convention Center in Ontario, CA. Anyone with an interest in general or model aviation are encouraged to attend to learn more about the model flying hobby, view and purchase the latest in model aircraft technology, mingle with model flying enthusiasts, listen to presentations by aviation experts, and enjoy a full weekend of camaraderie.
This year's Expo will include more than 200 exhibitors with hundreds of products and displays. Check out multirotors, unmanned aerial vehicles (UAVs), recreational first-person view (FPV) tools, indoor flying demonstrations, and more! New this year is a multirotor flying demonstration area, a hands-on FPV experience with the Roswell Flight Test Crew, and real-time construction of model airplanes by the California Scale Modelers Association. Do not miss the FAA, AMA, and Association for Unmanned Vehicle Systems International (AUVSI) panel discussion to learn about the most recent advancements in the industry.
Bring the kids for several youth-centered activities including a model airplane and rocket make-and-take, sponsored by Estes Rockets. Visit other displays and exhibits by NASA, EAA, Rotor F/X, the Soaring Society of America, and see a static model competition display.
2014 Schedule
Friday, January 10, 11 a.m. -5 p.m.
Saturday, January 11, 10 a.m.-5 p.m.
Sunday, January 12, 10 a.m.-4 p.m.
One-day pass: $10 for AMA members/EAA Members, $12 for nonmembers
Two-day pass: $18 for AMA members/EAA Members, $20 for nonmembers
Three-day pass: $24 for AMA members/EAA members, $28 for nonmembers
For groups of 10 or more: $8 per person per day
Ages 13-18: $5 per day
Active military with ID, all attendees under 12, and youth in uniform are free.
All youth will receive a free AMA Youth membership.
Main stage guest speakers
Jeff Skiles, First Officer, US Airways Flight; 1549, Vice President of Communities and Member Programs EAA
Presenting: "Miracle on the Hudson"
Friday, January 10, 3:30 p.m. and Saturday, January 11, 2 p.m.
Roswell Flight Test Crew, "Techinstein" Brian Zvaigzne, "Lucidity" Patrick Sherman
Presenting: "Hobbyists to the rescue!"
Friday, January 10, 12:30 p.m. and Saturday, January 11, noon
Dennis Lord, AMA member and vice president of EAA Membership Chapter 96, with Jeff Skiles
Presenting: "How AMA clubs and EAA chapters can work together"
Friday, January 10, 1:30 p.m. and Saturday, January 11, 1 p.m.
Albion H. Bowers, Associate Director for Research for NASA Dryden Flight Research Center
Presenting: "On the minimum induced drag of wings: Why birds don't have vertical tails"
Friday, January 10, 2:30 p.m. and Saturday, January 11, 4 p.m.
Michael Toscano, president and CEO of AUVSI
Presenting: "The state of the industry"
Saturday, January 11, 3:15 p.m.
AMA Expo is sponsored in part by Go Professional Custom Xtreme Cases, Aerial Media Pros, International Radio Controlled Helicopter Association (IRCHA), Castle Creations, Southwest Aerovista Hobbies, AUVSI's Unmanned Systems, Estes Rockets, Gorilla Glue, US Scale Masters, Nationwide Insurance, and others.
A complete schedule of events, ticket information, and more can be found at http://www.amaexpo.com.
More than 5,000 people are expected to attend the annual AMA EXPO. Information and directions to the Ontario Convention Center can be found at http://www.ontariocc.org.
The Academy of Model Aeronautics has been the nation's collective voice for approximately 164,000 modelers in 2,400 clubs in every state and Puerto Rico since 1936. A nonprofit association headquartered in Muncie, IN, AMA sanctions more than 2,000 events and competitions each year under the auspices of the National Aeronautic Association.