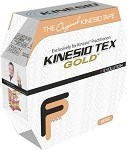 The less a doctor or PT has to worry about their overhead, the more they can focus on the task at hand: helping people!
Wynnewood, PA (PRWEB) December 31, 2013
Orthoco, Inc., a trusted dealer of medical supplies and equipment since 1995, today announced that they are offering free shipping on bulk purchases of Kinesio Tape. Any customer who buys at least 6 large boxes of Kinesio Tape (each box contains 6 rolls of tape) or 6 large bulk rolls will qualify for the special offer. The offer is only available on shipments within the domestic United States.
Kinesio tape is an elastic cotton tape used in the treatment of many physical disorders, most commonly with athletic injuries.
Kinesio Tex Gold FP is a brand is a brand new version of kinesio tape that was developed exclusively for clinical professionals. Considered the latest "re-evolution" in kinesio tape technology, and boasts a number of exclusive features:

Brings Nano-touch micro-stimulation to the epidermis and the lower layers.
Mimics gentle human touch yet provides more effective adhesion.
Utilizes a higher-grade cotton for better "breathability."
The cloth material features a new protected weave process for improved comfort.
Hypoallergenic and latex-free for all patient populations.
Designed to be applied utilizing the traditional Kinesio Taping Method.
Now available in White.
Contains the same Water-Resistant properties of the Original Kinesio Tex Tape.
"A good chunk of our customers are medical professionals who have to balance budgets," said Anthony Engel, CEO of Orthoco, Inc. "As a resource for top-quality medical supplies, we feel it is our obligation to support these people in their mission of healing. That is why we have begun to offer this deal on bulk orders. The less a doctor or PT has to worry about their overhead, the more they can focus on the task at hand: helping people!"
Orthoco, Inc. (Established in 1995)
Orthotics, Durable Medical Equipment, Clinical Office Supplies and Equipment.
OrthoCo, Inc. provides clinicians and patients with the finest quality, cost effective medical supplies and equipment available. OrthoCo continues to provide useful products and information assistance to patients, occupational and physical therapists, physicians, chiropractors, and massage therapists.
We understand the important purpose of the products we carry; and the role they play in assisting in patient recovery. OrthoCo strives to provide the best products, because their performance is integral to the successful, timely recuperation of the patient.
OrthoCo, Inc.
1445 City Line Ave, Suite 6B
Wynnewood, PA 19096
Web: http://www.orthoco.com
Toll-free (in U.S.): 1-888-422-4777
Phone Number: 856-795-6900
Fax Number: 856-795-6922