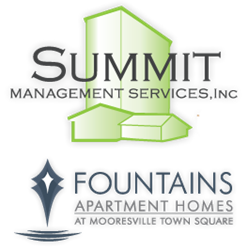 A showcase property in a great location, the upscale Lake Norman area.
Charlotte, NC (PRWEB) March 10, 2014
Multifamily asset managers and developers Edward and Herbert Newman, in partnership with a large institutional investor, announced the purchase of the Fountains Apartment Community, a 227-unit property of luxury apartments with upscale amenities located in Mooresville, NC.
The property was purchased for $29,500,000. The acquisition is part of a broader strategy for the Newmans' firm, Summit MultiCapital, LLC, Akron, Ohio, to expand their footprint through the purchase of properties in select markets where people are moving for lifestyle changes. "We've been targeting Class A properties and upscale student housing over the past five years in geographical locations that are seeing steady growth," stated Edward Newman, Chief Executive Officer. "The Fountains, built just a year ago, is a great fit for our success model - a showcase property in a great location, the upscale Lake Norman area. It's within a mile of Lowes corporate headquarters and Lake Norman Regional Medical Center, just off I-77."
Fountains features well-appointed 1, 2 and 3 bedroom apartments with high-end finishes and amenities throughout both the apartments and property. The apartments round out a modern floor plan with high ceilings, granite counters, wood and tile flooring. The property boasts a lavish saltwater pool, grilling area with TVs, outdoor fireplace, fitness facility and billiards room.
The property will be managed by the Newmans' management firm, Summit Management Services, Inc. (SMSI) headquartered in Akron, Ohio, with regional offices in Charlotte, North Carolina and Denver, Colorado. SMSI has earned a nationwide reputation for their proprietary property management system that focuses on delivering an outstanding residential experience.
For additional information, please visit http://www.fountainsmooresville.com or contact: Mr. Edward M. Newman, CEO, CPM, Summit Management Services, 730 W. Market Street, Akron, OH 44303, (330) 762-4011, enewman(at)summitmanagementservices(dot)net.
###
Summit Management Services, Inc., based in Akron, Ohio, presently operates over 4,000 housing units in Ohio, Colorado and North Carolina. SMSI has developed a unique property management formula that results in extremely high resident satisfaction, low turnover, and high occupancy. For more information, visit their website http://www.summitmanagementliving.com.