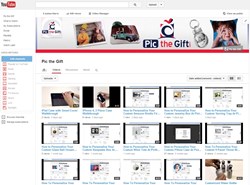 These videos help to ease confusion and create a better user experience.
Saint Louis, MO (PRWEB) December 24, 2013
Pic the Gift, a 100% American made manufacturer of personalized gifts, announced the launching of their new YouTube channel. Using this new channel will help customers personalize their custom products through hands on "how to" training videos provided by Pic the Gift. The channel will also include walkthroughs of products that will actually show you what the product does and how to use or assemble it.
The Pic the Gift YouTube channel will give customers a better understanding of what a particular product is and how to personalize and purchase products through the website. Each "how to" video is comprised of a screen recording that is narrated with step by step instructions on how to navigate the process of personalizing a product of their choosing. The videos will go over uploading a personal picture and editing the picture including: adding effects, borders, and text, as well as walking through the checkout process. These videos will help to ease confusion and create a better user experience. The product walkthrough videos give an explanation of the product and customization capabilities. In these videos, customers are shown the product in real life including different features and how you can use or assemble the product.
Established due to the demand of personalized products and photo gifts, Pic the Gift became an American made manufacturer who prides themselves on keeping strict quality standards and having 100 percent of their manufacturing done in the United States. Located in the Midwestern city of St. Louis, Missouri, they offer expedited delivery to each of their clients and can ship anywhere in the United States within 4 days. With over 50 years of experience in the distribution and manufacturing of custom gifts, Pic the Gift aims to create an easy, user friendly experience for of all their customers.