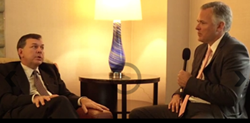 Companies that outsource need to understand each country's strengths and weaknesses, and they need to know how to rebalance their outsourcing portfolio to successfully navigate challenges like job saturation, inflation, and natural disasters.
(PRWEB) December 23, 2013
Qualfon, a leading global business process outsourcing (BPO) and call center services provider, and its Chief Sales and Marketing Officer, Bob Dechant, offered industry insight into the recent rise of "nearshoring" (outsourcing business functions to nearby countries) in a new video recently released by Nearshore Americas http://www.NearshoreAmericas.com.
The video, Evolution of Nearshore BPO: The Dynamics Behind Each Wave, is an interview between Kirk Laughlin, the Founder of Nearshore Americas, and Dechant, who explains the evolution of nearshoring over the past 20 years. Dechant offers insight into the key turning points, market trends, and business drivers that explain why nearshoring in Caribbean and Latin America countries is now gaining momentum in the outsourcing industry. As Dechant offers his perspective on which near-shore countries are best positioned for outsourcing success in 2014, he also provides industry-insider expertise on labor market dynamics and the relationship between geographic diversification and risk mitigation.
Watch the video on the Nearshore Americas website: http://www.nearshoreamericas.com/evolution-nearshore-bpo-dynamics-wave/
Watch the video on You Tube:
http://www.youtube.com/watch?v=yTW4G3Uyrqk
In the video, Dechant explained that outsourcing sophistication and market maturation are two factors driving near-shore investments. "Years ago companies went with one outsourcing provider and invested in one country, but today that is a dangerous position," said Dechant. "To best mitigate risk, you need geographic diversity in your outsourcing locations. Companies that outsource need to understand each country's strengths and weaknesses, and they need to know how to rebalance their outsourcing portfolio to successfully navigate challenges like job saturation, inflation, and natural disasters. As companies learn more about outsourcing in the Caribbean and in little-known, native English-speaking countries like Guyana, they are leveraging nearshoring as portfolio protection. That's why Latin America and the Caribbean are explosive and powerful outsourcing markets today."
About Qualfon
Qualfon has a strong track record of customer service and back-office processing growth with experienced business processing outsourcing (BPO) leadership. We have been serving our BPO clients since our founding in 1996, and today, we are 10,200 employees serving an international base of clients. Qualfon operates in the Philippines, Guyana, Mexico, Costa Rica, the United States, and China. Our mission is "Be the Best BPO. Make People's Lives Better." Qualfon invests in the well-being of our people who, in return, are taking better care of customers, clients, and our communities. Our employee tenure is twice the industry average, which enables us to offer highly skilled and highly engaged people that provide a better customer experience. In addition, our lower employee attrition and strategic locations enable us to provide our services at a lower cost. http://www.qualfon.com