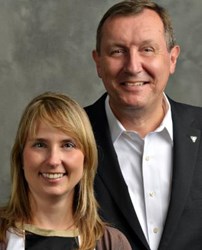 Anna-Katharina is establishing stronger ties with key U.S. communities . She will help us to build strong relationships and networks, add to our state-of-the-art resources, says Peter Riehle, CEO WITTENSTEIN North America
Bartlett, IL (PRWEB) December 24, 2013
Dr. Anna-Katharina Wittenstein will represent the WITTENSTEIN Global Group to its partners, customers and associates in North America. Her endeavors will support the expansion of additional mechatronic businesses here, and help ensure the integration of WITTENSTEIN North America within the WITTENSTEIN Global Group.
As an independent family-owned business, Dr. Anna-Katharina Wittenstein has the opportunity and flexibility to implement new directions for WITTENSTEIN. She expects to enhance the North American operation by infusing the combination of traditional and progressive values that have allowed the motion control and mechatronics company to flourish globally. "These values make our company very unique, ensuring that our customers can rely on us today, and in the future," says the new Chairwoman.
Dr. Anna-Katharina Wittenstein will also implement new business structures within the WITTENSTEIN Global Group in order to market new products and technologies to the North American region. She will strive to transform the global organization by serving as the company's new ambassador to North America.
Anna-Katharina is the daughter of Dr. Manfred Wittenstein, founder of the WITTENSTEIN Group. She holds both a Doctor of Engineering degree and Master's degree in Business Management. Prior to the position she held at WITTENSTEIN AG for five years, Anna-Katharina worked for four years at the Fraunhofer Institute for Manufacturing Engineering and Automation IPA as a consultant. She has moved to the U.S. with her husband, Lars Aldinger, who also works for WITTENSTEIN North America, and their two children.
About WITTENSTEIN
Since pioneering the world's first low backlash planetary gear reducer, WITTENSTEIN has made great strides in the development of motion control systems for a wide variety of growth industries, including: Automation, Packaging, Machine Tool, Simulation, Medical and others. Motion control products include alpha Gearheads, cyber Motors, Actuators, Rack and Pinion Systems, Mechatronic Systems and Accessories.
WITTENSTEIN North America is headquartered in Bartlett, IL.