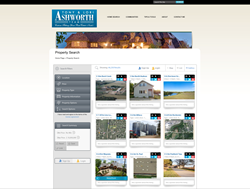 Cannon Falls, MN (PRWEB) December 23, 2013
Trusted and locally founded Minnesota real estate team, Ashworth Team is proud to announce the launch of its new website: http://www.ashworthteam.com. The new website design reflects the team's goals of providing a full service website complete with an innovative IDX property search, community pages and user-friendly navigation. Homebuyers now, more than ever, are using the Internet to search for homes rather than looking for a For Sale sign, and The Ashworth Team is following homebuyer requests and proving an easy way to search for homes online.
This new website features a sleek design and intuitive homepage that is designed to assist visitors through navigating the website and buying a home. The homepage features a slideshow displaying some of the luxury homes that Ashworth has sold as well as the Our Listings carousel, which featured homes that Ashworth currently has on the market. The website navigation allows users to easily find the information they are looking for and navigate to the page that best suits them. With Tips and Tools, Buyer and Seller resources and Community information pages, all users are sure to find exactly what they are looking for.
As part of the Ashworth Team's goal to provide all home buying and selling tools in one place, the new website includes a new and innovative property search called Vision®. Unlike other IDX property searches, Vision® allows users to simultaneously refine their search criteria while also viewing homes for sale. This is done via an auto-populate system, so while users are entering their search criteria, the search results are filtering out all properties that do not match the specific criteria. Each property also allows users to ask a question to the realtor, without providing any personal information.
The new website was designed with Minnesota real estate and homebuyers in mind and it is complete with new and improved components.
New website features include:

User-friendly Interface – visitors can easily navigate the website to search for homes as well as read about tips for buying and selling.
Community Pages – allows visitors to read about the areas, including seasonal information, market trends, community events and more.
IDX property search – also called, Vision®, features larger images, an abundance of search criteria and an intuitive that will remember users' past information for easier searching.
About The Ashworth Team.
As President of Prudential Lovejoy Realty, Tony Ashworth is dedicated to expanding the business by providing the best possible experience to both home buyers and sellers. Born and raised in Minnesota, Ashworth knows the ins and outs of Minnesota real estate and has helped hundreds of people through their moving process. With four offices in the Twin Cities area, The Ashworth Team can assist buyers and sellers across a vast radius.