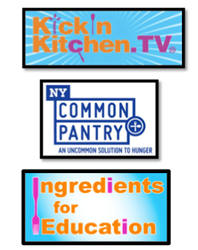 New York, NY (PRWEB) December 26, 2013
KickinKitchen.TV, Ingredients for Education and the New York Common Pantry announce a partnership to bring educational content to the pantry's "Live Healthy!" program this holiday season.
With support from The Heckscher Foundation for Children, KickinKitchen.TV will provide a series of video episodes that encourage healthy cooking and eating and exercise in an urban setting among middle schoolers and young teens. Episodes are also available online (http://www.kickinkitchen.tv). Families will receive holiday recipe postcards with their groceries provided by the pantry and KickinKitchen.TV will promote NY Common Pantry as a worthy place for end-of-year charitable giving in its holiday greetings.
Live Healthy! encourages participants to embrace healthy eating, active living, resiliency skills, and social support to improve overall quality of life.
KickinKitchen.TV has provided Live Healthy! with multimedia that will supplement the pantry's program curriculum and provide participants with access to their online video database. "We are excited to work with KickinKitchen.TV and look forward to incorporating their fun videos to our participants," says Sara Bartels, Live Healthy! Program Manager.
"At KickinKitchen.TV, we think everyone should have access to healthy food and nutritional literacy with a dash of music and comedy that celebrates real food. Our partnership with pantry is a recipe for making this happen in NYC," says KKTV Executive Producer, Natasha Lance Rogoff.
About KidsCOOK Productions and Ingredients for Education
KidsCOOK Productions (KCP) is a premier multimedia entertainment company founded in 2005 that specializes in the production of quality television and digital content for children with a focus on preventing childhood obesity. KCP's non-profit arm, Ingredients for Education with fiscal sponsor, Filmmaker's Collaborative, works closely with national NGOs, government organizations and schools that are committed to providing nutrition education and to preventing childhood obesity. KidsCOOK Productions is the producer of KickinKitchen.TV, the groundbreaking TV and Web series for kids (ages 8-15 yrs.). The sitcom-style, musical series mashes together cooking, comedy and interactivity. KickinKitchen.TV and the curriculum for middle schools – "KickinNutrition.TV" - aim to revolutionize food and health culture by providing the tools, laughter, community and inspiration to engage youths and their families in making healthy choices. Visit http://www.kickinkitchen.tv for more recipes and entertainment.
About New York Common Pantry
New York Common Pantry (NYCP) is dedicated to reducing hunger throughout New York City while promoting dignity and self-sufficiency. Last year, NYCP provided almost 2.5 million meals to nearly 39,000 New York residents. For more information, visit http://www.nycommonpantry.org. For updates, follow NYCP on Twitter @NYCommonPantry and on Facebook at https://www.facebook.com/NYCommonPantry.
About The Heckscher Foundation for Children
The Heckscher Foundation was founded in 1921 to promote the welfare of children in New York and elsewhere throughout the United States. Today, it provides grants to youth-serving organizations in the fields of education, family services, child welfare, health, arts and recreation.