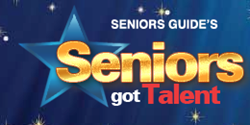 Videos with the most Total Votes by December 31, 2013 will win cash prizes of: 1st Place $1,000; 2nd Place $500, 3rd Place $250.
Cincinnati, OH (PRWEB) December 27, 2013
This year's Seniors Guide's Seniors Got Talent features local Cincinnati residents, retirement communities and area senior services displaying their talents for fun and cash prizes.
Seniors Guide's Seniors Got Talent, sponsored by Brookdale, a leading provider of senior living solutions in the United States, aims to give cash prizes to talented companies and individuals age 55-plus to enhance a vibrant well being.
Videos with the most Total Votes by December 31, 2013 will win cash prizes of: 1st Place $1,000; 2nd Place $500, 3rd Place $250.
Seasons Retirement Community residents surprised Seasons staff during a meeting with a Wizard of Oz Flash Mob – and it was all caught on camera.
Residents of Seasons are starting a drama club and plan on doing regular public performances. If Seasons wins a cash prize, they plan on using their winnings to go towards the drama club, local soup kitchens, and a party for all the residents and staff.
"It is [the resident's] money, so we are going to allow them to vote on how it should be spent," says Kari Shields, Marketing Assistant for Seasons Retirement.
TriHealth SeniorLink's entry features their Bell Choir – a group that regularly meets and plays tone chimes as part of TriHealth's music therapy program.
Pinebrook Senior Living, winners in last year's Seniors Got Talent, show off the playful side of their talented residents in pictures from the community's 2014 Calendar.
"The residents formed a committee, created themes for each month, designed costumes and posed for the pictures! The result is hysterical!" says Pinebrook's Social Director Kim Lust.
Betty Finney from Cincinnati sends in a video that features her Zip Lining and reading excerpts from her book, Growing Young at the Anderson Senior Center. Growing Young features guidelines to healthy aging.
Betty's outlook and philosophy, along with Seniors Got Talent, reinforce that age is just a number.
Visit http://www.SeniorsGuideOnline.com/seniors-got-talent to vote for your favorite videos to win cash prizes that will benefit the community.
Winners will be announced in January 2014.
Seniors Guide, a Richmond, Va. -based company, publishes Seniors Guide magazines throughout Cincinnati, Ohio; Dayton, Ohio; Indianapolis, Indiana; Raleigh-Durham, North Carolina; Richmond, Virginia; and Roanoke-Lynchburg, Virginia and features a correlating website of http://www.SeniorsGuideOnline.com. Seniors Guide's mission is to help seniors and their families find the information they need on options available in senior housing, senior care, assisted living, independent senior living, retirement communities and other retirement living needs. Seniors Guide also has resources at http://www.HomeCareChoice.com for Cincinnati, Ohio; Dayton, Ohio; Raleigh-Durham, North Carolina; and Richmond, VA. Ross Publishing, Seniors Guide's parent company, began in 1991 and has been publishing helpful, free publications and websites ever since.
Brookdale Senior Living Inc. is a leading owner and operator of senior living communities throughout the United States. The Company is committed to providing senior living solutions within properties that are designed, purpose-built and operated with the highest-quality service, care and living accommodations for residents. Currently, Brookdale operates independent living, assisted living, and dementia-care communities and continuing care retirement centers, with 649 communities in 36 states and the ability to serve approximately 67,000 residents. Through its Innovative Senior Care program, the Company also offers a range of outpatient therapy, home health, personalized living and hospice services. For more information, visit http://www.brookdale.com.