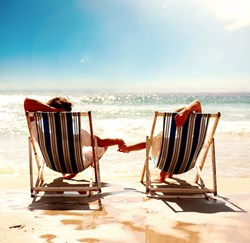 Honeymoons are the time to relax and celebrate an exciting new chapter.
Destin, Florida (PRWEB) December 23, 2013
Imagining a honeymoon destination with white-sandy beaches and an eclectic atmosphere? If frothy waves and sandy beaches are at the ideal destination, Henderson Park Inn, the premier beach hotel in Destin, is helping to make honeymoon planning easier. According to Henderson Park Inn, their list of honeymoon tips was created to make planning a honeymoon easy and fun.
Their list recommends couples let the hotel staff know they are on their honeymoon. Upon arrival at their hotel in Destin, the staff offers grapes and flowers to guests checking in. "Honeymoons are the time to relax and celebrate an exciting new chapter," said Ryan Olin, innkeeper at Henderson Park Inn. "We specialize in unforgettable couple's vacations filled with unique features and memorable moments."
Henderson Park Inn also recommends couples should decide how active they want to be before the vacation. Destin is filled with water sports, shopping and nightlife. For couples who would rather lounge, the Inn has a private white sand beach.
Another tip on the list is to consider a destination wedding. Destination weddings are popular because they allow couples to transition from ceremony and reception to honeymoon without travel. The Henderson Park Inn offers six different ceremony and reception locations on the beach and inside their hotel in Destin, Florida.
For couples looking to experience an extra special honeymoon, the Henderson Park Inn hotel in Destin, Florida will make the trip magical. This 35 room Destin bed and breakfast invites guests to check out their all-inclusive amenities. Included are beach services and turndown service.
Voted the most romantic hotel in North America, Henderson Park Inn opened its doors in 2007 as an industry leader in high quality and exceptional customer service. The all-inclusive, adult only resort is a recipient of both the 2013 Certificate of Excellence and the Travelers' Choice Award from TripAdvisor. Visitors to the bed and breakfast in Destin will be excited for the breathtaking ocean views on Henderson Park Inn's private beach, as well as the countless complimentary amenities including a gourmet breakfast and picnic lunch. Offering 24-hour check-in, Henderson Park Inn is located at 2700 Scenic Highway 98, Destin, FL. For additional information about Henderson Park Inn, visit their website at http://www.hendersonparkinn.com or give them a call at 866-398-4432.