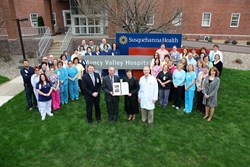 Looking back, 2013 was a tremendous year of growth for Susquehanna Health.
Williamsport, PA (PRWEB) December 23, 2013
Susquehanna Health's (SH) progress in 2013 reflects patterns of growth and success through advancing facilities, improving quality and safety, recruiting top care providers and enhancing technology. These developments are guided by the heath system's True North statement: to provide the "best care for patients and their families, no matter what."
"Looking back, 2013 was a tremendous year of growth for Susquehanna Health. We are honored, yet humbled by what we have accomplished together as a healthcare family and we will strive to achieve our goals as we focus on the opportunities afforded by a new year," said Chief Operating Officer and Williamsport Regional Medical Center (WRMC) President Jan Fisher.
Advancing Facilities
Early in the year, renovations were completed on a new Physical & Aquatic Therapy Center near Soldiers + Sailors Memorial Hospital, Wellsboro. Designed to offer a more comfortable therapy option to patients with back and joint pain or balance and coordination problems, the center's warm water pool includes an underwater treadmill and state-of-the-art filter system.
In March, Muncy Valley Hospital (MVH) was named a Top 100 Critical Access Hospital (CAH) in the United States by iVantage Health Analytics. Top 100 Critical Access Hospitals are measured across 56 different performance metrics, including quality, outcomes, patient perspective, affordability and efficiency. The only Pennsylvania CAH named to the list, MVH also qualifies because the hospital offers 25 inpatient beds or fewer, provides 24-hour emergency care and is located in a rural area.
Plans for the renovation and expansion of the MVH Emergency Department are currently underway. The new design and layout will enable the hospital to increase service from 6,000 to 16,000 emergency room patients a year. The expansion replaces five curtained bays with 14 private treatment rooms, enhances security and functionality, provides specialized treatment areas for decontamination, behavioral health evaluations and trauma.
In September, SH took steps toward its next phase of growth with the dedication of the Health Innovation Center, a four-story building that will complement WRMC's new Susquehanna Tower (opened in 2012) by providing outpatient services and access to primary care physician offices and specialists. In addition, the building will house services including the pharmacy, oxygen and medical supply, the Williamsport Family Medicine Residency Program and The Commonwealth Medical College. The Health Innovation Center is projected to be completed in the spring of 2015.
Improving Quality and Safety
Mid-year, WRMC was named a Blue Distinction Center+ for Spine Surgery and Knee and Hip Replacement®. This national recognition is awarded by Blue Cross and Blue Shield to healthcare facilities that use expertise in delivering quality specialty care that improves patient health and safety in a cost-effective manner.
In November, WRMC was also recognized as a Top Performer on Key Quality Measures® by The Joint Commission, the leading accreditor of healthcare organizations in America. The medical center was honored for exemplary performance in using evidence-based clinical processes shown to improve care for frequently occurring medical conditions. WRMC is one of 1,099 hospitals in the United States to earn this distinction for attaining and sustaining excellence for the care of heart attack, heart failure, pneumonia, stroke and surgical care.
Recruiting Top Care Providers
The recruitment of first-rate medical professionals is paramount to achieving excellence in patient care. Throughout 2013, SH successfully added several new physicians to its healthcare team including a cardiothoracic surgeon, neurologist, orthopedic surgeon, podiatrist, psychologist, urologist, several family practice physicians and certified registered nurse practitioners. SH's multi-specialty group practice employs more than 140 physicians.
Enhancing Technology
In keeping with its goal of "best innovation", SH was named one of the nation's 100 Most Wired Hospitals and Healthcare Systems by Hospitals & Health Networks, the journal of the American Hospital Association, for the eleventh time. One of this year's technological strides includes the health system's use of the electronic patient record by every SH healthcare provider.
In addition, SH adapted the MyKeyCare patient portal, a secure website that enables patients to access their personal clinical information including results of common diagnostic and lab tests, emergency room visits, mammogram results and reports from surgical procedures performed in SH's operating rooms.
To ensure patient safety, SH also implemented inpatient bedside barcoding. At admission, each inpatient is issued a barcode bracelet to wear during their stay. "This barcode contains patient information so that nurses can simply scan and match the proper medications to patients," explained Tim Schoener, SH Vice President of Information Technology and Chief Information Officer. "Computers and electronic records now make managing patient care more efficient and effective. We are putting the resources provided to us to the best use possible for our patients' benefit."
About Susquehanna Health
Susquehanna Health is a four-hospital integrated health system including Divine Providence Hospital, Muncy Valley Hospital, Soldiers + Sailors Memorial Hospital and Williamsport Regional Medical Center located in northcentral Pennsylvania. Serving patients from an 11-county region, Susquehanna Health is a healthcare leader and has been recognized at the national and state levels for quality of care. Susquehanna Health offers a wide array of services that include cancer care, heart and vascular care/heart surgery, neurosciences including neurosurgery, orthopedics, urology, OB/GYN, gastrointestinal services, behavioral health, physical rehabilitation, home care, long term care, assisted living and paramedic/ambulance services.