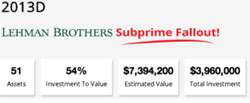 Chicago, IL (PRWEB) December 23, 2013
Lehman Brothers' subprime mortgages, fallout from the largest bankruptcy in U.S. history, are being crowdfunded by American Homeowner Preservation("AHP"). Consisting primarily of loans birthed by Lehman, AHP's 2013D opportunity empowers accredited investors to acquire the interests in the $3,960,000 offering and earn returns of 9 – 12% on terms of 1 – 5 years. Once acquired, AHP offers borrowers sustainable solutions to stay in their homes, strengthening families and communities.
150-year old Lehman Brothers, the fourth-largest investment bank in the U.S. (behind Goldman Sachs, Morgan Stanley and Merrill Lynch), buckled under the strain of billions in toxic subprime mortgage holdings which had plunged in value. Lehman's collapse culminated in a September 2008 bankruptcy filing, New York Southern Bankruptcy Court, 1:08-bk-13555, a matter which continues to be resolved. Wall Street's subprime lunacy doomed many of these borrowers to fail with terms which were impossible to meet. Now that these loans are being acquired at a 57% discount to existing debt, AHP has substantial flexibility to craft terms which are affordable for families, yet generate attractive returns for investors.
The 51 assets featured in the 2013D offering are secured by properties with a total estimated value of $7,394,200, resulting in a 54% investment-to-value ratio and a $144,984 average property value. The properties are located nationwide, with the highest concentration in Brooklyn, New York and the top states being New York, Illinois and Florida. Loans will be titled in American Homeowner Preservation Trust, with U.S. Bank as trustee, G&S Fund Services as fund administrator and Orion Financial Group as document custodian. AHP investors own interests in the LLC which is the beneficial owner of the Trust. The minimum investment is $10,000 and revenue is distributed monthly to investors, which earn returns of 9% for a 1-year term, 10.2% for 2-years and 12% for 5-years.
American Homeowner Preservation started in 2008 as a 501c3 nonprofit before transitioning to for profit, evolving into a socially responsible hedge fund which delivered returns to investors of greater than 14% in 2012 and 2013. However, the 80/20 fee structure typical of hedge funds was not sufficient to fund AHP's management-intensive workout approach. Thus, AHP recently added the crowdfunding component with predetermined – and attractive – yields to investors.
To learn more about AHP, visit http://www.ahpinvest.com, call (800) 555-1055 or email info(at)ahpinvest(dot)com.