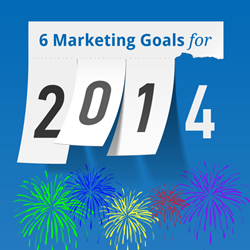 Students and graduates create ads for their schools every day.
Andover, MA (PRWEB) January 06, 2014
Effective Student Marketing, a full-service marketing agency specializing in higher education, has revealed some of its best practices for lead generation and increasing enrollment in its latest infographic. Effective Student Marketing suggests some must-do marketing tips for 2014 which it has successfully used for its top clients and shares it all in an easy-to-read visually appealing infographic.
Here is a recap of the 2014 marketing goals from Effective Student Marketing that can help boost student enrollment this year:
1. Create Videos: If a picture is worth a thousand words, then video boosts those numbers exponentially. However, according to Effective Student Marketing, it's not necessary to have a fully polished production. They suggest less is more. Check out the Effective Student Marketing infographic to learn what to shoot and where to post to best reach a target market.
2. Pay Attention to Google+: Effective Student Marketing is always in close discussions with Google to learn about the latest tools available. Discover some tips on creating and customizing a Google+ account to share school brands with students and potential students.
3. Harness User Generated Content: Students and graduates create ads for their schools every day. Whenever they boast of their school affiliation, they're running free ads for their schools. Find out how to get them to share all their great ideas with potential prospects.
4. Buy Facebook Ads: While schools may want their Facebook pages to stand organically on their own, there are some good reasons to purchase strategic Facebook ads in this competitive market.
5. Remarket: Marketing has never worked as a set-it-and-forget-it entity. To target today's savvy students, schools must go where their students go and interact with them as they travel across the internet. Find out why remarketing is just as important as initial efforts at attracting students.
6. Track Phone Calls: A marketing campaign is not much good if its effectiveness can't be measured. One way to do that is to use tracking tools to find out just where callers came from.
Effective Student Marketing creates customized marketing campaigns to help schools achieve their enrollment, retention, and placement goals. Their services include social media marketing, search engine marketing, content creation and distribution, web design and optimization, reputation management, and cost-per-lead management. Check out the Effective Student Marketing Infographic to learn how to get a jump on 2014 leads right now.