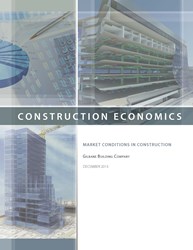 Expect margins to grow in 2014 based on positive footing and gains from 2012 and 2013.
Providence, RI (PRWEB) December 26, 2013
Gilbane Building Company published the Winter 2013 edition of Construction Economics – Market Conditions in Construction. Based on an array of economic data, construction starts, and material cost trends, this free report predicts greater rate of growth activity than 2013, which allows passing along inflationary labor and material costs. Margins regained a positive footing in 2102 and extended those gains in 2013.
"Supported by overall positive growth trends in 2013 and 2014, I expect margins and overall escalation to climb more rapidly than we have seen in five years," says Ed Zarenski, who authors the report and brings more than 40 years of industry experience. "Once growth in non-residential construction picks up in pace with residential, we will begin to see more significant labor shortages and productivity losses."
According to the report, construction jobs growth has slowed. Jobs grew by 90,000 in the first half of 2013, but have only grown by 33,000 since June 2013.
Other highlights include:

Nonresidential building construction is expected to increase substantially in last few months of 2013.
May see a decline in non-building infrastructure spending through 2014.
Residential work will remain extremely active.
Expect Margins to grow in 2014 based on positive footing and gains from 2012 and 2013.
Construction spending for 2013 will finish the year 5% higher than 2012 and are projected to be 5% higher year end 2014.
This free report, Gilbane Market Construction Economics and the executive summary are available for download at http://www.gilbaneco.com/economic-report/.
About Gilbane, Inc.
Gilbane provides a full slate of construction and facilities-related services – from pre-construction planning and integrated consulting capabilities to comprehensive construction management, close-out and facility management services – for clients across various markets. Marking its 140th year in operation and still a privately held, family-run company, Gilbane has more than 50 office locations around the world. To find out what the next 140 years have in store, visit http://www.gilbaneco.com.
####