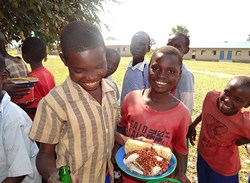 That old vehicle may only be worth $300 at a salvage yard, but that $300 may make it possible for a child in Africa to get three meals a day, a roof over his head and to spend his days getting an education
San Diego, CA (PRWEB) December 27, 2013
With the tax deadline to make charitable donations for the current tax year right around the corner, many of us are mulling over whether to donate an old car or sell it. Maybe it's an old clunker, or a more recent model in good condition, but here are some points to consider when deciding whether to donate a car over making a few bucks selling it on the used car market or for salvage.
Reason # 1 to Donate a Car: No Repairs or Cleaning Necessary
When getting an old car ready for sale, getting it detailed, mechanically sound and road worthy are just a few of the basic preparations needed to make it worth your while. The better the vehicle's condition, the more likely you are to get a good price.
"But, what about my old junker? Repairs are getting the better of me and sinking more money into that old car is more time consuming than I can allow and reduces the amount I actually hope to pocket from the sale?"
If the repaiirs and fix-its on that faithful old clunker are getting the better of you, the good news is that when donating a car, the charity picks it up as is. Whether it's got a bad transmission, needs tires or has a blown head gasket doesn't matter. The charity can still use the donation.
Reason #2 to Donate a Car: Convenience
Whether you choose to simply put a sign in the car window, or list the vehicle on Craigslist, Auto Trader and other such sites, selling a car gets time consuming. There are scammers to dodge, calls to field, low-ballers to deal with and then at least one or more appointments with bonafide potential buyers.
However, when you donate a car, there is one initial call (or online form to submit) and then another call to work out the details and arrange a convenient time for the tow truck to make the pick up. That's it! The paperwork is either given to you at the time of pick up with follow up forms mailed or emailed as appropriate.
Reason #3 to Donate a Car: Paperwork Problems?
If your car title has been misplaced or the registration has expired, some receiving charities, like http://www.DonateACar2Charity.com, will work with you and handle replacing the lost title, or expired registration, etc. saving you the time, headache and hassle of having to travel down to the local Department Motor Vehicles or County Courthouse, standing in multiple lines and more.
Reason #4 to Donate a Car: Car Donations Make a Difference!
Yes, that's right! That old vehicle may only be worth $300 at a salvage yard, but that $300 may make it possible for a child in Africa to get three meals a day, a roof over his head and to spend his days getting an education instead of selling onions on the street to get money for food. That old, but reliable Honda, that is still good enough for someone to use, may be just what a low income college student needs to get back and forth to school and work as they work towards their degree.
Reason #5 to Donate a Car: Tax Deduction!
Along with the above benefits, all car donors qualify for a tax deduction when they donate a vehicle, truck or motorcycle to charity. Just remember that the tax deadline for donating a vehicle and claiming it in the current tax year is midnight on December 31st.
If you have questions about the process, call 877-505-5775 and a helpful operator will answer any questions about the donation process, what sort of deduction you can expect and any other questions.
Happy Holidays! May your old car be a great blessing to others!