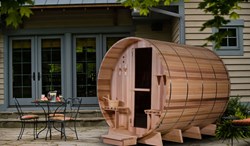 Renick, WV (PRWEB) December 23, 2013
Still searching for a one-of-a-kind gift for that special someone? Almost Heaven Saunas has five hand-made Canopy Barrel saunas available at a deep discount for delivery in early January, with free shipping.
"Our sauna is a gift that is guaranteed to last a lifetime, and give a lifetime of benefits," said Rick Mouw, CEO of Almost Heaven Saunas of West Virginia. Although our holiday sale is over, we have just enough high-grade Western Canadian red cedar to handcraft barrel saunas for five lucky customers.
One of the oldest and most respected sauna manufacturers in the world today, Almost Heaven Saunas has been building saunas by hand for nearly 40 years, at its mountain-based factory in the Greenbrier Valley of West Virginia. "Each board is individually inspected, each profile is hand-milled, and every component is individually assembled," Rick said, "to ensure a sauna room of exceptionally high quality." Built in the authentic tradition of Finnish saunas, Almost Heaven Saunas are enjoyed around the world.
With our new, easy-to-use online store, ordering a sauna room or accessories is easy. "Almost Heaven Saunas is committed to providing the best online prices available, and all our prices include shipping costs," Mouw said.
What makes Almost Heaven Saunas unique is not only the hand craftsmanship, but also the special design features that increase heating efficiency. Since the room designs minimize square corners, there is less cubic feet of interior air space to heat. "Our saunas heat faster than comparable square units without compromising usable space and seating comfort," Mouw stated. "All the benches are positioned to provide an optimal balance of comfort and performance, and sauna users can choose to sit or recline."